Founded on July 11 1792, Manzanillo is in Granma province in the Oriente. Known as the Perla del Guacanayabo (the gulf it sits by), it was named after a strange tree (Hippomane mancinella lin) or manzanillo which is poisonous. The aboriginals used it to make deadly arrows.

The town is considered the birthplace of Son (Cuña del Son), Cuba's favorite song style. It also became famous for its mechanical organs imported first from Paris, then built here by the Fornaris and Borbolla families who went on travelling shows with their huge organs in the back of a rickety viejo camion.

During the 1980's, before Buena Vista Social Club, the town was at the origin of a new beginning in Cuban music. The danzon orchestra, La Original de Manzanillo, Carlos Puebla, composer of "Comandante" the song about Che Guevara as well as singer Cándido Fabré, reputed for his improvs are today its most famous sons.

Citizens meet on sunday afternoons for concerts around the central park's glorieta (gazebo), inspired by the one in the Los Leones park of Granada, España.

Only 9 miles south of town is one of the loveliest, entrancing spots in Cuba : La Demajagua. By all means (bike is nice), go and enjoy the calm and serenity of this most peaceful historic location.

Another way this town is unique : at the main church entrance in February 2013, a sign with a picture of a condom saying : "SAFE SEX Get married and be faithful". You won't see this in the Vatican any time soon ; )


MAPS & LINKS

Map - Large and detailed, of the province
Map - Architecture & Landscape Guide : 17 places
Map of Granma province
Rising and downward tides - Golfo Guacanayabo
Coast map, south of the city
Bus Bayamo Ruta 16 + Ruta 24 + Ruta 25 + Ruta 26
Viazul - bus connections (horariodebuses.com/cu)
Train schedule Bayamo - Manzanillo
5-day weather forecast (Wunderground)
Daily currency exchange rates

All that's natural in Granma province
Crazy guy on a bike from Manzanillo to Santiago
Collection of loverly pix from RobinThom
EcuRed page on the town
ROUTEMAPS (km)
Bartolomé Maso, 34
Bayamo, 63
Camaguey, 271
Grito de Yara, 22
Holguin, 131
La Demajagua, 15
La Habana, 778
Las Coloradas, 92
Marea del Portillo, 91
Media Luna, 50
Parque Turquino, 56
Parque del Desembarco, 86
Pilon, 91
Santa Clara, 540
Santiago, 190



Mi Calle • Beltran



POPULATION 131,707 (2007)

RESTAURANTS
1800, Cayo Confite, El Golfo, El Manegua, Hotel Guacanayabo, Las Alinas PALADARES Rancho Luna on calle Juan Miguel Gomez, 50 m from centra park; Merci y Marcel Paladar las Rocas (Martires de Vietnam 68, e/Caridad y Gal Benitez, cell (5) 815-1851 Hosts offer meals with a view in their home, near casa Adrian y Tonia, prices from 8 to 10 cuc)

SERVICES
Since July 2015, wifi for 2cuc/hour is available on the Bulevar (pedestrian street) with purchase of a Nauta temporary wifi account for your smartphone or tablet from the same address as regular Internet 8h30-19h30 daily : Centro Multiservicios (Dr. Codina, corner José Miguel Gómez) • Aeropuerto Sierra Maestra (8km south) tel. (23) 54-984 • Banco de Credito, corner Merchan & Saco (mon-fri, 8h-15, sat 8h-12) • Cubana, calle Maceo 70 tel. (23) 28-00 • Havanautos 5-20-56 • Omnibus terminal for Astro (no Viazul here), 2 km East tel. 5-22-21, daily departures (among others) for Pilon and Grito de Yara • Train station is at the end of Merchan street 5-35-88. We tried it in Feb. 2013, the train was delayed 3 hours (Cubans were screaming insults at the Station Chief — a first in Cuba !); so we went in a horse-driven cart to the Astro terminal where we caught a 15-cuc cab back to Bayamo

EVENINGS
Bar Brisas del Mar, Baseball : Estadio Wilfredo Pages, Cabaret Costa Azul, Cabaret Salon Rojo, Casa de la Trova, Cine Popular

TRANSPORTATION
Bus Astro reserved for Cubans - at the local terminal, easily find a shared cab to Bartolomé Maso and Bayamo, payable (with luck) in Cuban pesos) • Trains Bayamo (2 x day if at all), Jiguani, Santiago de Cuba

SEE.KNOW.DO
::: UNEAC, casa Manuel Navarro Luna, centre for the promotion of literature, site of all cultural activities under the guise of the Union of Writers and Artists of Cuba
::: Teatro Manzanillo, built in 1856 (the opening play was titled "The Art of Making a Fortune"), re-opened in 2002, one of the jewels of Cuban Theatre Architecture
::: Iglesia Parroquial La Purísima Concepción, with its neo-classical architecture of the 20's and a modern man in charge : see sign at entrance
::: Plaza Celia Sanchez Manduley, a monumental work used for large gatherings and celebrations, on avenida Camilo Cienfuegos
::: Museo Historico Municipal, calle Marti 226, artefacts from the 16th century and the modern Revolucion
::: Parque Cespédes, the heart of the ciudad with a bust of Marti, the famous moor-inspired glorieta (concerts on weekends), the park bench with life-size Carlos (Comandante Che Guevara, the song) Puebla; on the roof of nearby pink edificio, weekend reggaeton music which never seems to shut up
::: Asamblea Municipal del Poder Popular, where public meetings have been taking place since 1820; site of the nomination of Celia Sanchez to the National Assembly
::: Studio of Ruben Beltran, the home of the talented local painter; works can be seen on a web site here
::: Proyecto Recreativo, along the sea on the Malecon : music DJ huts, fast food joints and the ever-present music (seductive sometimes, such as here) until the wee hours
::: Hotel Guacanayabo, a large, nondescript empty hotel with an inviting swimming pool where you can dip in and enjoy (if you "consume", it may be free); get there and back on a rented bike

VISTA BELLISSIMA
Bartolomé Maso a sugar-mill (still in operation) town between here and Bayamo with a deserted hotel named Balcon de la Sierra, the perfect stopover for a dip in its swimming pool with no-less fabulous views of the valley below and the Sierra Maestra mountains on the horizon, 24 km away.

EXCURSIONS
• Media Luna for birthplace and museum of Celia Sanchez, muse and companion of Fidel until her death in 1980 • Grito de Yara, tiny placename, unforgotten and significant : where the first aboriginal rebellion took place, led by Hatuey • Museo Historico La Demajagua (13 km south) : rich landowner Carlos Manuel de Cespedes liberated his slaves and declared war on the Spanish colony • Bartolomé Maso for the view of the valley below from hotel Balcon de la Sierra, perfect stopover on way to Sierra Maestra, 24 km further • Santo Domingo for a stay in casa particular Ulice y Esperanza or in its cabinas (Villa Santo Domingo) by the river before heading up to Sierra Maestra : trekking to La Comandancia de la Plata and Alto de Naranjo in Parque Turquino with (why not?) camping near its peak (pico) at an altitude of 2 000 meters. Our page here.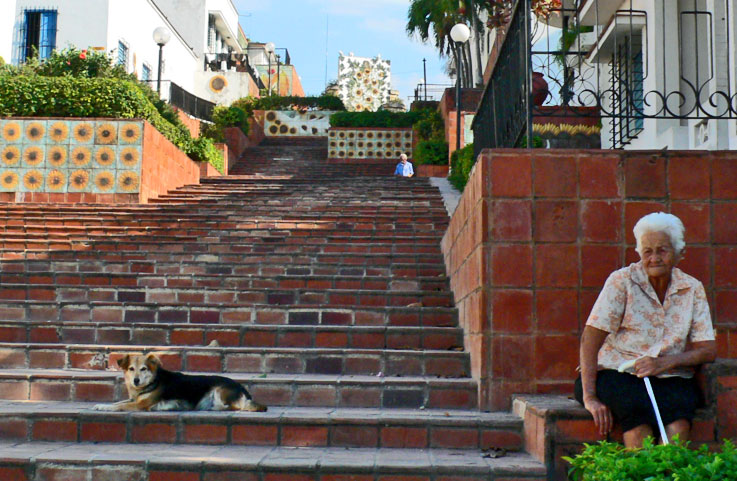 This guard dog is never far from his master, a kind abuela living on Caridad street, the staircase passing by Adrian y Tonia's © sogestour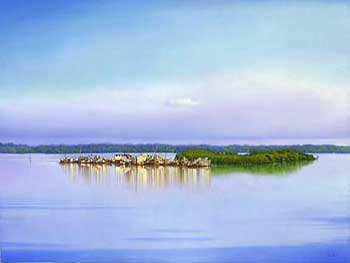 Barcas in the Golfo de Guacanayabo and •|• Casa de Campo, paintings by local artist Ruben Beltrán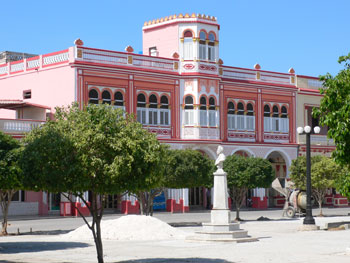 Edificio de Correos cum "chopping" mall with a fresh coat of pink paint in March 2013 © sogestour •|• One of four sculptures of reclining women on the Malecon by artist Wilfredo Milanes © sogestour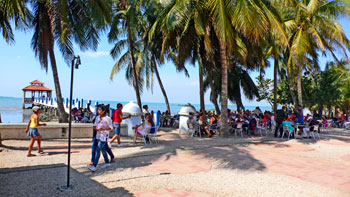 Group of ciudadanos celebrating on the Malecon on a warm Saturday afternoon © sogestour



At the entrance of the "Purest Conception" church on the main square, this sign says "SAFE SEX Get married and be faithful". A symbol of change, who knows ? © sogestour •|• Recently open, paladar (private restaurant) Rancho Luna offers passable edibles for reasonable prices © sogestour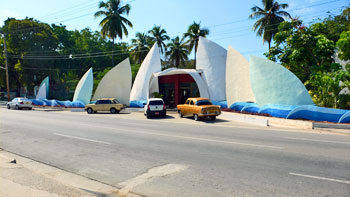 Located on the gulf side, Restaurante El Golfo boasts a better view than a good menu or service ... but it's in pesos cubanos, so shut up and eat © sogestour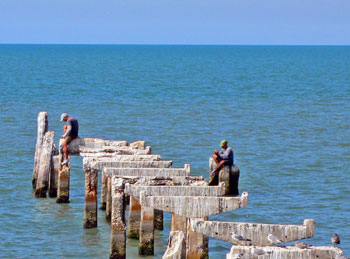 Like two pelicans, these two ingenious pescadores will have to show lots of patience. How did they ever get up there, anyway ? © sogestour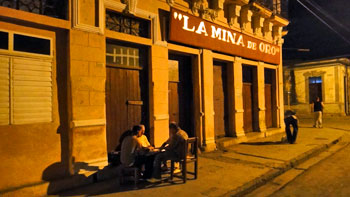 They may not find gold at the end of their game of dominoes : La Mina de Oro is life, here and now © sogestour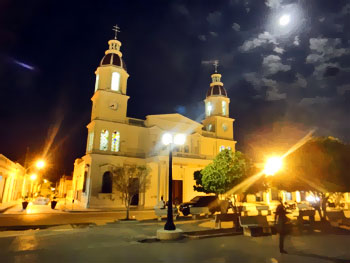 As far as Purisima Concepcion, there may be scientific doubts. But for its nocturnal beauty, for sure this church rocks © sogestour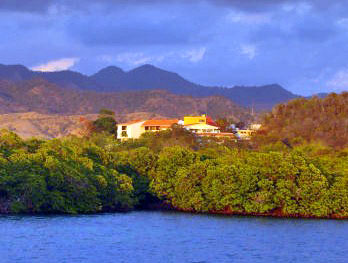 You will find this spot 110 k's south in Marea del Portillo; it has its own black sand beach and an all you can eat buffet ; ) It's called Farallon del Caribe and its packaged clients use the Manzanillo airport — named Sierra Maestra. Many get there from Trana, Muntreeyall and points in between © sogestour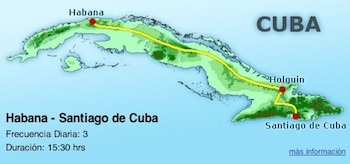 Viazul bus routes closest to Manzanillo pass through Bayamo 6 times a day going to or from La Habana, Varadero, Trinidad and Santiago among others.