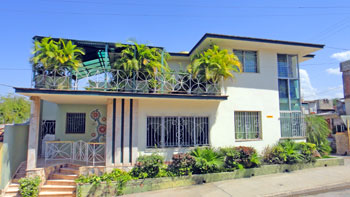 Imposing casa where Juan Manuel's sister Dolly offers travelers safety, comfort and privacy (as the street sign says) and hospitality for several years now - Juan Manuel has moved to the USA.

On the ground floor, ample space for dining and relaxing. The boudoir (separate entrance) with chairs also on the ground floor. It has two beds and an ensuite bathroom with water heater. All is well furnished, spacious and well equipped.

By a narrow staircase on the side, you climb to the terrace to take in some sun or make time between a novel and a bella vista.