Robin Thom

Every traveller's favorite, Gibara la Perla Hermosa, this lovely pearl of a town is a small, charming and quiet cocoon by the sea, wrapped by hills and woven with culture.

Once Holguin's door to the sea, a rich sugar port, its economy declined with the arrival of the train.


Merchant families once enjoyed the confortable life of their Spaniard forefathers, with the great Caruso performing in the Teatro Colonial, which may re-open in this decade.

A program to rejuvenate the colonial buildings, has produced Hostal Buenavista, Hotel Ordoño, Hotel Arsenita and is continuing with the ongoing renovation of the lovely Teatro Colonial; in May 2017, Hotel Plaza Colon with 14 bungalows opened by the newly-redone central park and wifi zone, Parque Colon.

Each month of March sees the Festival de Cine de las Cavernas (films shown in the "Bakers' Cave" - Cueva de los Panaderos !) and yearly, the Festival del Tango de Gibara. In July, nearby Caletones is invaded by DJ Masters from here and abroad who entertain throngs of aficionados till the wee hours during el Festival de Musica Electronica.

Now moved to July, Gibara hosts the very popular Festival Internacional de Cine de Gibara, a project of one of Cuba's premier directors, Humberto Solas who passed away in September 2008. It used to be called del Cine Pobre (low budget).

On this occasion only, casas without a rental permit are allowed to host festival guests and visitors as there are only 55 official rental casas and three hotels in town. So many people show up that some pitch their tent anywhere they can.


DISTANCES (km)
Banes, 103
Bahia Bariay, 10
Bayamo, 104
Caletones, 18
Camaguey, 241
Guardalavaca, 83
Holguin, 32
Las Tunas, 112
Playa Blanca, 27 (or by lancha)
Playa Los Bajos, 30 (or by lancha)
Playa Pesquero Nueva, 33
Puerto Padre, 75
Santiago, 188
Silla de Gibara, 35
Velasco, 30




Callejon de los Hermanos.




POPULATION 72,056 (2007)

SEE.KNOW.DO
• Parks : Calixto Garcia, Colon and Las Madres, all along main street, calle Independencia. (photos here) • Copa del Amor (legendary site in cemetery) • Fortaleza (office of the Historian : say hello to architect Alberto Mora) • Fuerte El Cuartelón • Fuerte Fernando VII • Iglesia de San Fulgencio (Parque Calixto Garcia) • Mirador, the lookout above town : restaurant, bar, snack • Museo del Arte Colonial (reopened after total rebuild as only ground floor remained after hurricane Ike destroyed the building) • Museo de Historia Natural (largest collection of stuffed birds in Cuba, whale : enjoy practicing your Spanish with young Conservador Ernesto Moreno Garcia) • Museo Municipal de Historia + Museo de Artes decorativas re-opened in October 2017 after a 10-year, arduous and long renovations following a hurricane.

RESTAURANTS & PALADARS
• Must do : eat lunch or dinner at La Perla del Norte on Cespedes with fabulous views from the rooftop terrace. 'Tis here that chefs Yoander and Daniel (members of national Artechef association) prepare national and local regional cuisine with seafood and other delights for affordable prices; recommended by most guidebooks. • La Cueva de Jorge Luis on calle 2da (Secunda) on road to Caletones has its own tiny farm; grill specialties; recommended by most guidebooks. • La Tinaja on J. Peralta 21-A seafood specialties. • El Coral on Sartorio 38-A Yudier & Mailé are great hosts, large 2-cuc salad, fish, chicken, crab (jaiva), wine by the glass (!); recommended by this webmaster. • La Concha facing the sea at Hotel Buenavista, above the Faro beach; • Mirador de Gibara overlooking the town and bay. Dining room of the Hotel Ordono + Hotel Arsenita's dining room.

• In casas particulares, also renting rooms • Los Amigos at Cespedes 15 • El Patio de Lily on Mora 19 • Villa Caney on Sartorio 36. In Caletones La Esperanza de Nelson Escalona, fish, catch of the day, octopus

EVENINGS
• Casa del Tango, a project by Québécois Gilbert Bertrand who also created (with the UNEAC) the annual local Tango Festival. • Artex, now located by the bay on the INIT site, live music on weekends, 5cuc • Casa de la Cultura, exhibitions and more • Ciné Jiba, main venue of the film festival • Siglo XX on Parque Calixto Garcia.

LOCAL PLAYAS
• Playa de Gibara, entrance of town, at the foot of Aguilera and Gomez streets ::: These are deserted in winter (Oct to May). • Playa Bavado • Playacita El Faro (great summer photo-op) • Playa La Concha

PLAYAS IN THE AREA
• Playa Blanca, (across the bay, by barca, the ferry which some locals name La Cachimba or by car, around the bay, about 28 k's • Playa Los Bajos, 30 km by car, past Playa Blanca : busy in summer, its casas are deserted (and unrentable) in winter • Playa Caletones, 18 km (3 small beaches in this village of 268) • Playa Pesquero Nueva (in Guardalavaca, largest resort complex in the country), 53 km.

HOTELES
• Hotel Plaza Colon opened in May 2017 opening on central park Colon, offers 12 bungalows, part of Cuba's E Hoteles chain of Cubanacan; dining room dedicated to the most popular music group in Cuba's history : Los Zafiros • Hotel Arsenita opened in Summer 2015 on General Sartorio near the church, offers 12 bedrooms, part of Cuba's E Hoteles chain, well-liked by travelers : dining room and mirador on roof. • Hotel Ordoño part of Cuba's E Hoteles chain on calle J. Peralta, opened in 2013 has 27 rooms and a dining room and a rooftop terrace. • Hotel Buenavista with its La Concha dining room and restaurant overlooking the playa of the same name is located on the seaside; upstairs, four renovated bedrooms for 25cuc with breakfasts; 20cuc pp with dinners • There is a wi-fi zone in Plaza de la Cultura (the central park - rebuilt in Spring 2017) • In Holguin : Aeropuerto Frank País (24)43-93-40, Cubana Office (24)42-57-07, Airport (24)46-25-12, Havanautos (24)48-14-15, Medical (24) 42-53-02, Transtur (24)42-41-87

TRANSPORT
• Lancha/Ferry - see Gray 4 on Map - (roofed, 18-passager capacity, 1cuc). Leaves the port at least twice a day. Returns one hour later. Two stops : across the bay in front of town at fishing port of San Antonio and then over at Caliche. • Bus Two daily from Holguin, the first leaving Valiares Terminal at 7, arrives here at 9:30. Another leaves here around 3:30 p.m. from Fulgencio Park. • Taxi particular to and from Holguin for 20cuc : 30 mins; with locals, better to use an old clunker, share it with Gibareños and pay 5cuc or less per person.

CATCH IT WHILE YOU CAN


Local ferry (Cachimba) sked ; it crosses the bay to San Antonio where one walks to Playa Blanca, rides around on bike through Los Bajos or stays at one of a couple of rental casas.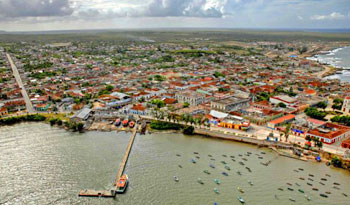 A bird's eye view desde el ojo del pajaro © juan pablo carreras, cubadebate.cu - click to enlarge on radiotaino web site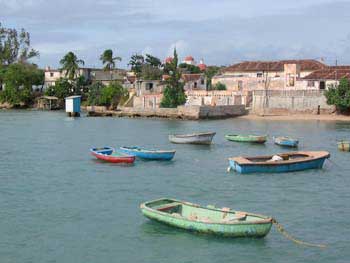 Barcas on the bay © sogestour •|• The Silla (saddle) as seen from tiny San Antonio © sogestour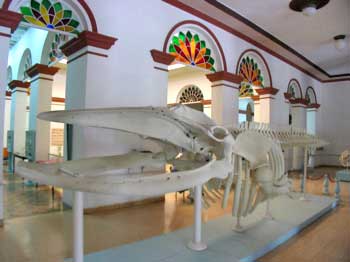 Whale at the Museo de Historia Natural © sogestour •|• Fireworks and raw talent explode during Festival Internacional de Ciné de Gibara © ficg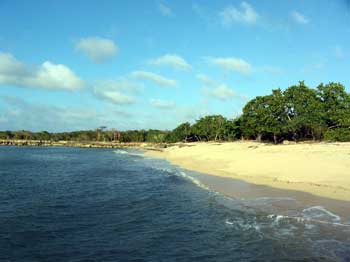 Playa Blanca across the bay. Get there by the ferry, La Cachimba. © sogestour •|• Kids on deserted Los Bajos road © sogestour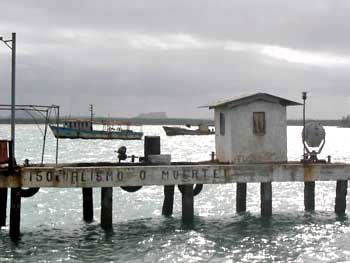 Lancha o puente, ferry or bridge. © sogestour •|• Empty seaside casa in Los Bajos © sogestour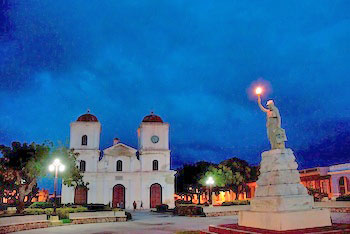 Iglesia San Fulgencio on Parque Calixto Garcia © Robin Thom Photography — On click, see Robin's 15 galleries of photos of colourful Gibara la Blanca •|• To quote Céline Dion : "Get a kayak !" and ride the aguas of the big bahia.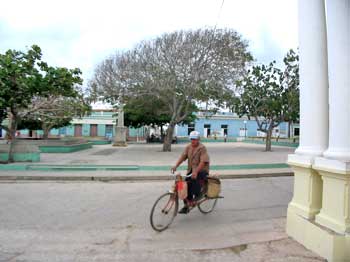 Parque Colon (Plaza de la Cultura), where on February 20, 2017, all (but two) trees were cut down. ; - ( © sogestour •|• Public haircut at the Barbero © sogestour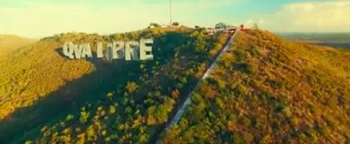 Por estar contigo (to be with you), a video clip "homaje" to Holguin using the Loma de la Cruz staircase and to Gibara, using rusting ships seaside and the dusty road to Caletones, with wind mills making energy out of hot air. Group is called Qva Libre, director José Rojas. No mention of the two women "used" in the clip.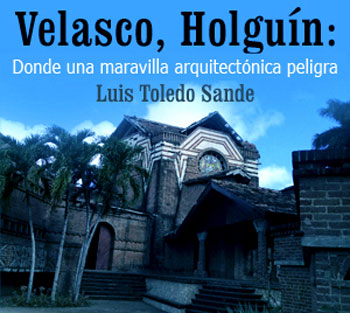 In the sleepy town of Velasco, 30 km southwest (left on this map), an original work of architectural art - the Casa de Cultura inaugurated in March 1991 - is in dire state. The joint work of North American architect Walter Betancourt (who left the USA in 1969, having fallen in love with the Revolución) and Cuban visionary
Félix Varona Sicilia. Situation explained ("where an architectural marvel is in danger") on click.
© luis toledo sande, la jiribilla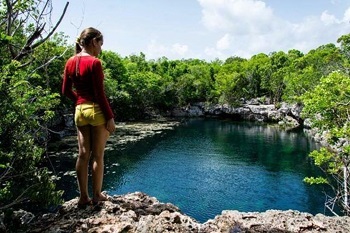 Dip in Tanque Azul, a 30m long by 15 meters wide natural pool near Caletones, a few k's west of here © juan pablo carreras, acn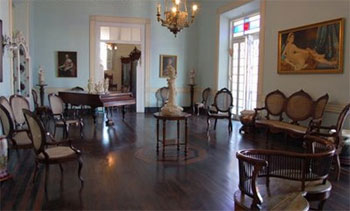 Re-opened after 10 years of a full rebuild Museo de Artes Decorativas still dazzles after all these years © radio angulo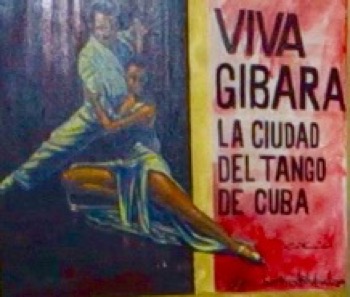 At Independencia 10, La Casa del Tango, a great evening spot to learn or watch tango . © sogestour


VIAZUL THROUGH HOLGUIN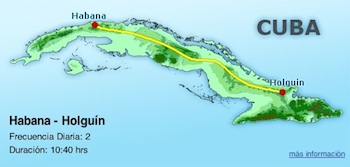 In nearby Holguin a Viazul bus stops 7 times daily from all points east and west; links above — Terminal de guaguas in Gibara is close to the town beach; in Holguin, it has recently been relocated on Carretera Central "salida para Habana, Ciudad Jardín" Tel. (24) 47-4430


RECOMMENDED BY PAPERBACK GUIDEBOOKS
Footprint Handbook (FH), Géo Guide (GG), Le Routard (LR), Lonely Planet (LP), Moon Handbooks (MH), Gallimard (NG), Petit Futé (PF), Stefan-Loose (SL) and site Trip Advisor (TA)
::: FH : Doble Roble, El Patio (Lily), Las Brisas, Los Hermanos ::: GG : Las Brisas, Hostal Vitral, La Mina, Los Amigos ::: LP : Sol y Mar, El Patio, Bayview, Luz del Norte ::: LR : Los Amigos, Los Hermanos, Las Brisas, Hostal Vitral, Villa Boqueron ::: MH : Los Amigos, Los Hermanos, Villa Caney ::: NG : Hostal Las Brisas ::: PF : Los Amigos, Villa Caney, Hostal Jacqueline, Hostal Vitral ::: SL : Los Amigos, Los Hermanos, Las Brisas ::: TA : Los Hermanos, Villa Caney, Hostal Vitral, Sol y Mar, Brisas del Mar, Villa Boqueron 18.02.18