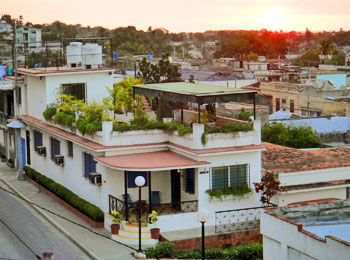 A Top 10 casas in Cuba, according to Christopher Baker (Moon Handbooks et Eyewitness Travel) "Top 10 Cuba 2009" We totally agree after having stayed here in February 2013.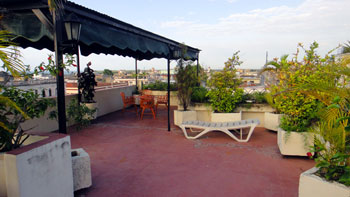 The casa of this young and affable, attentioned and charming couple offers two upstairs apartments a few steps from a rooftop terrace with its shaded dining table and a marvelous view of the town and the bay.

Through an independent entrance on the street, guests reach the mini-apartments with kitchenette or a suite or the triple bedroom.

Dowstairs, there's yet another ac bedroom with ensuite, sharing the space with the owners' private quarters.

Exclusive access up to the huge lovely rooftop terrace which has even another smaller mirador even higher, better to enjoy the sunsets.

When we first visited 15 years ago, Adrian was sitting on the porch getting a haircut from the barber : picture of a peaceful man living in harmony with his environment.

Rates 25-30cuc for floor and bedroom per night; meals served, laundry service, bicycles available.