Gateway to the Sierra Maestra, this is the city where Carlos Manuel de Céspedes, el Padre de la Patria was born. Visitors can see a copy of El Cubano Libre, the first independent periodical published by Céspedes.

Visitors will make this a must-stay town and it can be reached directly from either Las Tunas, Holguin or Santiago by car, train or bus, Gus.

Reasons to like this city : calmness, history, liberation and patriotism. Carlos Manuel de Céspedes was a native and the first to liberate the slaves from his own plantation. The deed was recognized by the Spanish crown and became known as La Demajagua. In February 1869, Bayamo's citizens preferred burning down their town than give in to the Spanish colonial army (ejército colonial español). Other local firsts : first slave revolt in 1533, first playing of the national anthem, first city hall, first revolution against the Spanish colony.

Aboard a boat named Granma, Che Guevara, Fidel and Raul Castro and 80 other compañeros landed from Mexico at the point 133 km southwest in Las Coloradas on December 2, 1956 and were promptly decimated by the army. Only 12 survivors — joined by daughter of Niquero doctor Celia Sanchez — hid in the Sierra Maestra mountains. They fought Batista during two years, with the help of the local campesinos and later, students and intellectuals. After the Revolucion was won on December 31, 1958, the province adopted the name of the boat. Map of Granma here.

The town is a chess players dream. Fiesta De La Cubania breaks out every week along calle Saco and as with most Cuban festivals, you can count on lots of dancing, music, and a pig roast. At this celebration, an added component exists : chess boards sit on makeshift tables lining the street.

DISTANCES Routemap
Baire, 46
Baracoa, 296 via Mayari
Bartolomé Maso, 60
Buey Arriba, 39
Camaguey, 208
Cauto Cristo, 28
Charco Redondo, 30
Dos Rios, 52
Gibara, 107
Guardalavaca, 186
Guisa, 26
Holguin, 85
Jiguaní, 26
La Demajagua, 81
La Habana, 757
Las Coloradas, 133
Las Tunas, 81
Maffo, 55
Manzanillo, 60
Media Luna, 110
Niquero, 133
Palma Soriano, 83
Parque Turquino, 86
Pilon, 148
Rio Cauto, 46
Santiago de Cuba, 130
Santo Domingo, 81 via Yara
Yara, 47



© sogestour


POPULATION 226,313 (2007)

SEE.KNOW.DO (the whole enchilada)
• Primer Ayuntamiento Libre de Cuba, where Céspedes signed into law the Decree stipulating the abolition of slavery. Today site of Poder Popular Municipal (town hall).
• Museo Casa Natal de Carlos Manuel de Céspedes.
• Casa natal de Francisco Vicente Aguilera, today site of Biblioteca 1868.
• Casa natal de Donato Mármol Tamayo, today site of Casa de Cultura 20 de octubre.
• Casa natal de Esteban Tamayo Tamayo, today site of Casa de la Nacionalidad Cubana.
• Casa natal de Pedro Figueredo Cisneros (Perucho), today site of Oficina de Correo.
• Casa natal de Manuel Muñoz Cedeño, today site of Museo Provincial de Bayamo.
• Casa natal de José María Izaguirre, today site of Bodega de productos alimenticios.
• Casa natal de Diego José Baptista, Padre Batista. Today site of Registro Civil.
• Casa natal de José Joaquín Palma, today site of a private casa.
• Plaza de la Revolución de Bayamo, where was signed the Capitulación of Bayamo.
• Casa natal de Juan Clemente Zenea, today site of Unidad de Propaganda.
• Casa where lived José Manuel Capote Sosa, today site of Centro Provincial de Patrimonio.
• Casa where lived Luz Vázquez y Moreno.
• Casa where lived Tomás Estrada Palma, today site of UNEAC.
• Casa where lived Céspedes and where was born his son Amado Oscar, today site of UPEC de Granma.
• Casa where lived Céspedes, today site of Escuela Especial "Francisco Maceo Osorio"
• Plaza del Himno, where was sung for the first time Himno Nacional.
• Iglesia San Salvador de Bayamo, today site of Catedral de Bayamo.
• Alcaldía de Bayamo, where the famous fire started in 1869. Today site of Restaurante Senado.
• Ventana de Luz Vázquez, where was sung for the first time La Bayamesa.
• El Retablo de los Héroes, where is paid homage to thefighters of the Guerra de los Diez Años.
• Mausoleo de José Joaquín Palma.
• Convento de San Francisco, today site of Escuela Primaria Manuel Ascunce Doménech.
• Convento de Santo Domingo, today site of Escuela Primaria José Antonio Saco.
• Hospital San Roque, first hospital of the city, today site of Policlínico Bayamo.
• Old tower of the church Iglesia San Juan Evagelista, known for its monument and the site of the remains of Francisco Vicente Aguilera.
• Barranca La Lizana.
• Barranca La Mendoza.
• Barranca La Luz.
• Casa de la Nacionalidad Cubana,
• Museo Ñico Lopez (he introduced the Che to Fidel)
• Parque Granma,
• Plaza de la Patria, in town

PALADARES
Polinesio, Sagitario (Donato Marmol 107, open Noon to Midnight Tel. 42-24-49)

RESTAURANTS
La Sevillana (new always full, hyper aircon, best peso cubano place in Oriente ?) even with a bit of snobery, La Bodega (Plaza del Himno, supere terrace), La Casona (in pesos cubanos, crowded), Restauran Vegetariano on Gral Garcia, La Presa on Amado Estévez (lobster and shrimp for a handful of pesos), Bayamesa (low-budget), Dona Nelly (pizza, spaghetti), Hotel Royalton (best terrace in the province), 1513, El Manegua, La Bodega, La Casona El Renacer on Gral Garcia, El Senado on C. Figueredo, El Victoria on Gral Garcia, España on Paseo Bayamez, El Manegua on Figueredo.

SERVICES
Internet service daily 8h30-19h30 at the Telepunto (General García No. 109 e/ Saco y Figueredo) Railway station 42-49-55 ; Havanautos 42-26-75 ; Cubana 42-45-01, 42-39-16 ; Cubataxi 42-43-13 ; , Radio Bayamo CMKX 1150 AM. Should all casas be full, Hotel Royalton on the main square is your best bet for reasonable accomodations with nice terrace and restaurant. (23) 42-22-24

EVENINGS
Cabaret Bayamo, Cabaret ARTEX, Casa Atocha, Casa de la Trova (Maceo 111), Ciné Cespedes, Discoteca Bayamesa, UNEAC, La Bodega (Plaza del Himno); on Saturday nights : Sabado de la Cubana in the town's main park

TRANSPORTATION
Bus Astro Holguin (1xday 5cuc), La Habana (1xday, 12 hrs, 30), Santiago (2xday 5) • Bus Viazul La Habana (2xweek 44), Santiago (2xweek 7) • Trains (42-49-55) - Camaguey (Daily) 7, La Habana (1 day/2 26), Manzanillo (every 2nd day 2), Santiago (1xday/2 4) • Airport 42-36-95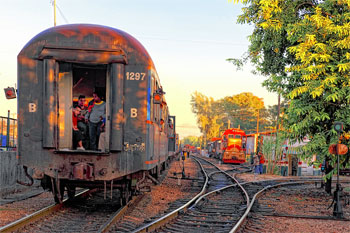 Morning train in Bayamo © robin thom photography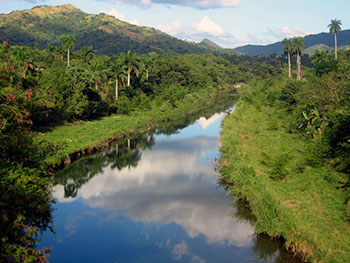 A river runs through it. Rio Yara runs through the vast Parque Sierra Maestra © agripp



Parque Cespedes (Parque de la Independencia) in town center, another lovely parque publico © eyanex panoramio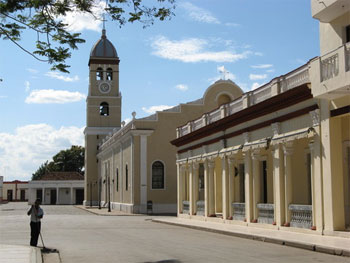 Located by charming Hotel Royalton opening onto the great public park, the Plaza del Himno and the Catedral de San Salvador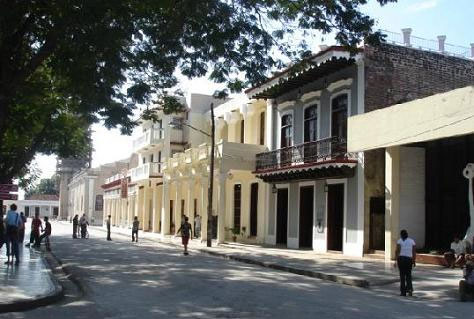 Along the streets bordering the Parque de la Revolucion , walkers will find La Bayamesa, the town's Cultura center, the La Creacion building, the El Pedrito bar, the Public Library, a fast food place, El Rapido, ice cream parlour Heladeria Boulevard and the Royalton Hotel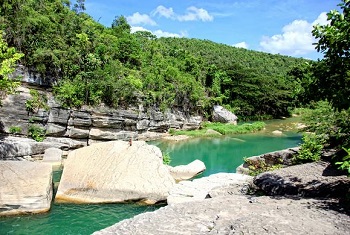 Las Minas, a superb spot near Charco Redondo, 30 km south east of here. Click for full album @ robin thom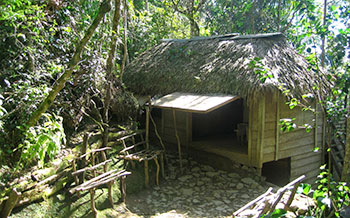 La Comandancia of Fidel during the guerilla years can be found and visited in the Sierra Maestra, about 75 km south west of here © sogestour •|• On click, description of a typical 3-day mountain trek in the famous mountains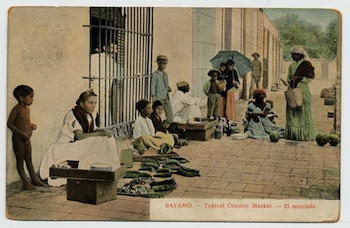 "Bayamo - Typical country market" — in the 1920's, prolly © unk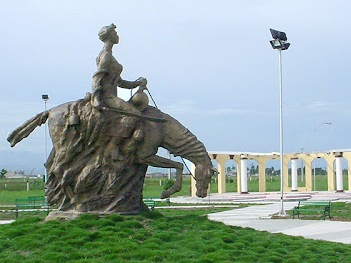 The only sculpture of a woman on a horse in Cuba, this is the homage to Rosa Castellanos (nurse, organiser of field hospitals during the 10-year war 1868-1878), a lifesize monument in Parque Bayamo © unk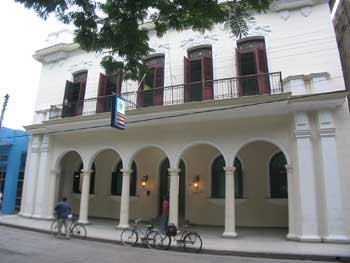 Casa de los Pioneros (pre-school kids in Cuba are named pioneers) opens on our favorite city park © sogestour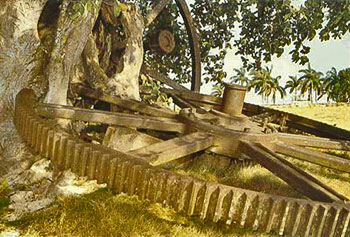 In nearby La Demajagua (a few k's past Manzanillo), the gears of history are forever soldered onto the land : the site of the first slave liberation by Cespedes and the most enchanting, calm and historic place on the island © Triom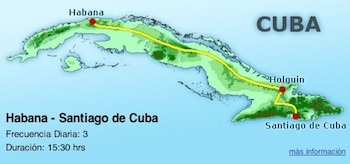 Viazul busses go through Bayamo 6 times per day, going to or back from La Habana, Varadero, Trinidad and Santiago


RECOMMENDED BY PAPERBACK GUIDEBOOKS
Footprint Handbook (FH), GéoGuide (GG), Lonely Planet (LP), Le Routard (LR),
Moon Handbook (MH), National Geographic (NG), Petit Futé (PF) and web site Trip Advisor (TA) ::: FH : Arturo y Esmeralda, Isabel y Fernando, Libia Marti Vazquez, Lydia y Rios, Olga y José, Villa La Nueva ::: GG : Doña Fina, Casa Bretones ::: LP : Villa La Paz, Casa Olga y José, Casa de la Amistad, Villa Pupi & Villa America, Villa Bayamo ::: LR : Olga y José, Casa Bretones ::: MH : Ana Marti, Lydia y Rios, Nancy y Aris ::: NG : Arturo y Esmeralda, Olga Celeiro Rizo ::: PF : Isabel y Fernando, Villa Barcelo ::: TA : Bretones, Villa Leon, Casa Espana Fernando y Lili, Arturo & Esmeralda, Ana Marti Vazquez, Villa Pupi & Villa America, Hostal Bayamo 10.02.18