OUR SUGGESTED CASAS

Colonials & neo-colonials

11

Modernas & apartments

13
The city holds a
special place
in the heart of the descendants of barbubos (the bearded ones) as it was here that the famous attack on Batista's armoured train sealed the
fate of the Revolución
in the last days of 1958.
One can find here all of the mementos of this passage in the
recent Cuban history
(Monument to Martyrs, Memorial to the Che, Museum of the Tren blindado).
Today, the peaceful city's
stable economy
with its many light industries in the area is maintaining a high job quota and gives a sense of comfort, to visitors and foreign students joigning Cubans who have chosen one of the 22 Faculties of
Universidad Marta Abreu
to make up the local student population of
27,000 estudiantes
. Recent proof : opening on main square of a huge (by Cuban standards)
Home Depot-like
appliance and construction material store.
The pedestrian
bulevar
shows off many hard-to-find products in its renovated
tiendas
. Its large fruit & vegetable market by the
estadio de beisbol
estadio also bears proof of a refreshing livelyhood.
The large and welcoming
Parque Vidal
will soon boast the largest store in Cuba along with a soon to be renovated
Teatro de la Caridad
and one of the loveliest museums on the island,
Museo de Artes Decorativas
.
Culture is expressed seemingly more freely, daily, publicly (and "gaily"), away from the habitual self-censorship in places like
El Mejunje
,
La Marquesina
and
El Carishow
unique show venues. Carpe Diem !
A mere 63 kilometers north by way of
Remedios
and
Caibarien
is the
Cayeria Norte
(the northern keys) with
Cayo Santa Maria
and some great beaches and all-inclusive resorts.
DISTANCES
Caibarien, 56
Camaguey, 269
Camajuani, 30
Cayo Ensenachos, 105
Cayo Las Brujas, 99
Cayo Santa Maria, 109
Cienfuegos, 61
Elguea (baños), 130
Hanabanilla (lac, chutes),67
Holguin, 477
La Habana Vieja, 292
Manicaragua, 45
Pinar del Rio, 399
Remedios, 46
Sagua la Grande, 54
Santiago, 616
Sancti Spiritus, 85
Topes de Collantes, 86
Trinidad, 106


POPULATION
238,028 (2007)
SEE • DO • KNOW
• Parque Leoncio Vidal
(heart of the ciudad, Biblioteca, Teatro, Ciné, Museos)
•
Plaza del Carmen
(a few blocks in straight line from Vidal Park : first mass in its Iglesia in 1689)
•
Museo de Artes Decorativas
(one of best run in Cuba : Empire, Baccarat, Art nouveau, Art déco)
•
Teatro de la Caridad
(marvel built in 1885, ceilings, history, stage instruments) reopened after major overhaul in July 2009
•
Facing the city's only Casa del Tabaco — House of Cigars —, is the
Fabrica de Tabacos Constantino Perez
(Montecristo no 2, Partagas Grande, etc. Visits 9h30-13h only, 4cuc Tkts sold only at
Cubatur
on calle Marta Abreu, Spanish only commentary.)
•
Galeria de Arte on Maximo Gomez
by the Parque Vidal (showings by famous artists, one of must-see galeries of Cuba)
•
Monumento a la Toma del Tren Blindado
(5 mins. on foot from Parque Vidal : four train cars and the famous bulldozer)
•
Loma del Capiro
(Capiro Hill for views of thae valley like the Che had in 58)
•
About 1,5 km from town centre, the vast museum plaza including
Mausoleo de los Martires de la Revolucion
as part of
Plaza de la Revolucion
which includes
Memorial Ernesto Che
(Cubano, Hermano, Ejemplo)
Guevara
a small museum (free entrance, no cameras) with well documented and presented artefacts of the
barbudo
.
RESTAURANTS
•
Aldaba
calle Luis Estévez # 61 e/ Independencia (El bulevar pedestrian street) y Martí - on the roof of casa particular Autentica Pergola.
•
El Alba
(pesos cubanos) : popular, al ways full, fish dishes; calle Pardo, corner Maceo
•
La Concha
on the way to Che Memorial, for pizza : Carretera corner Danielito
•
El Dorado
(cheap chicken, shows at night; right by :
•
Pizzeria Pullman
in pesos)
•
El Bulevar
(multiple choices, student hangout)
•
Sabor Latino de Alfonso y Familia
(10-12cuc, full meals : excellent)
SERVICES
Swimming pool at
Villa La Granjita
, on Carretera de Maleza, towards the airport 2,5km from center. 5cuc per person including a 3cuc drink. Havanautos 20-89-28, Medical 27-12-34, Transautos 20-58-95
TRAINS TO/FROM HAVANA
Trains #3, #1, #7, #5, #9 leave Havana Central Estacion every 2nd or 3rd day — like 5 times a week — at 16H40, 18h20, 18h45, 20h30, 21h40 - arrive here 6 hours later [one stop in Matanzas]. Sked
here
.
A total of 14 Viazul busses per day
stop in Santa Clara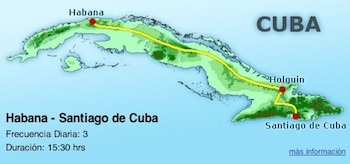 La Habana - Santiago 3 x day via Santa Clara, Sancti Spiritus, Ciego de Avila, Camaguey, Las Tunas, Holguin, Bayamo — Ruta 24 Same for Ruta 16 (2 x day) and Ruta 26 (2 x day)