CONSUELO RAMOS RODRIGUEZ
Nelson Turiño Ortega

Independencia 265 (Este), ground floor, e/Union (Pedro Estévez) y San Isidro. This street leads to
Tren Blindado Museum
. Tel. (42) 20-20-64
Try to reserve at least one month ahead; as for all casas on our lists,
you must reconfirm
by phone 24 hours before arrival. Otherwise, your reservation may be cancelled.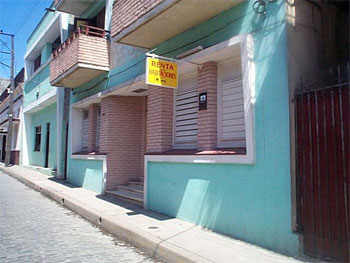 One of Nelson's bedrooms was used in March 1959 by Che Guevara (he was 31) and Aleida March (she was 22). Aleida became his second wife three months later and eventually the mother of his four children : Aleida, Camilo, Celia, and Ernesto. The rest is his story ; )
The facade is nothing to swoon over but the interior is very interesting. We discovered it in 1998.

" I highly recommend this casa particular because it has a simply wonderful atmosphere with a large and beautiful patio oasis.

" Amenities are also ideal for children, there is a very well preserved piano, guitars and other instruments available for travelers.
" Nelson speaks English, Italian and French. His cooking compares favorably with those of other casas particulares and the house's location close to the large central park (Vidal) is perfect.
" Nelson (widowed from Consuela since 2007) offers two large double bedrooms each with air conditioning, a fridge, and ensuite bathrooms." Alice L. 291211 stefan-loose.de

Rates : 20-25cuc per bedroom; meals served, laundry service, Internet on premises 4cuc