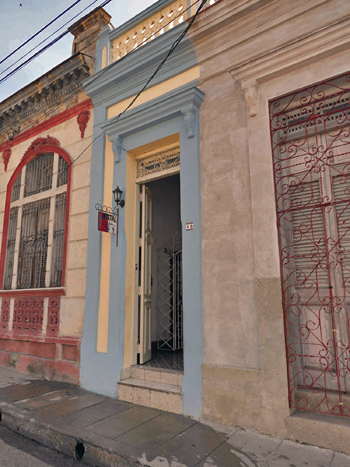 "I have stayed in a lot of casas in Cuba, and only recommend the very nice ones. This is a very nice casa! And very kind people.

The married couple lives alone (no children live in the casa). Very nice people - kind and quiet!
Only three blocks from Parque Vidal, this lovely couple has only one room renting since Spring 2014. It is one of the nicest in the area - tranquil with a garden courtyard. Charming, perfect location, and very very quiet.
The room is newly renovated, located at one end of the patio and has an amazing high wooden ceiling, air-conditioning, a large and luxurious private bathroom, double bed, TV, fridge and all modern conveniences.
And there is a kitchen that guests may use !
Secure, friendly, quiet, and convenient."

Rates : 20-25cuc per night for bedroom; meals : breakfasts 3cuc; dinners 5-8cuc.

Mark Warhaft, 19.01.15