Miramar is only a narrow band of streets by the sea with hotels and offices in this much larger area known to Cubans as Playa. There is no beach (playa) per se here — with the lovely exception of Club Havana (see at right).

Playa includes neighbourhoods and municipios in and around the Convention Centre (Palacio de Convenciones in Nautico), Marina Hemingway (bars, boats, hotels, restaurants), Almendares, La Sierra, Atabey, Barlovento, Bélen and Alturas de Bélen (Colegio and Tropicana), Buenavista, Cubanacán, Flores (Club Havana), Kohly, La Copa, Marianao, Nautico, Baracoa, Querejeta, Siboney and more.

You're not exactly downtown. Taxi rides to Old Havana are 12-15cuc each way. Cocotaxis are not any cheaper, private taxis (shared) should be about 5cuc from Vedado to Belen, much more to the Palacio de Convenciones, the Convention Centre, far into Playa, about 80 blocks from the Habana Libre in "downtown" Vedado.


RESTAURANTS [FULL LIST HERE]
Corte del Principe, (Italian); Rio Mar, (International); La Fontana (Brasserie); Bella Habana, (International); La Carboncita, (Italian); Calle 10, (International).

PALADARES
Quote from "The London Foodie" [Mar 2011] : By far the best food we had in Havana was at the "Paladar La Cocina de Lilliam". Located in an elegant house with lush gardens in a suburban district of the city, this supper club was one of the culinary highlights of our trip. Cocina de Lilliam, calle 48 #1311, e/13 y 15, Playa; El Diluvio (Italian), calle 72, e/17 y 19 (Playa); El Laurel, 5ta, past Marina Hemingway, between casas in the back; La Esperanza, calle 16 #105 Tel. 7.202 4361; La Fontana, calle 3a, e 46; La Vicaria 5ta y 180;

TOP PALADARES - MIRAMAR
Bienmesabe on Calle 152, e/ 3ra y 5ta in reparto Nautica; Rio Mar 3ra., Final Tel. 7.209.4838 Elite Calle 38, e/ 42 y 7ma Tel. 7.209.3260 El Palio 1ra, e/ 24 y 26 Tel. 7.202.9867 Bella Habana 6, e/ 5ta.B y 7ma. Tel. 7.203.8364 [cubapaladar.org]

EVENINGS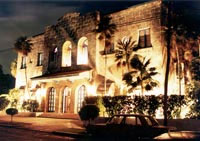 Casa de la Musica de Miramar, salsa dancing, orchestra, superb place in building from the 40's. Matinées and evenings. Run by EGREM since 1995.
Avenida 35, corner 20 tel. (7) 204-0447

Amelia (also good eats), groups and comics, 3ra, corner 82; Caneyes del Papa, club, salsa at midnight, calle 248, corner 5ta in Barlovento; El Bolero, best bolero in town at 22h and midnight 15, complejo Dos Gardenias, ave. 7ma, angle 26; El Diablo Tun Tun, piano-bar and shows of salsa et al. THE spot in Miramar. Upstairs from Casa de la Musica; Irakere Jazz Club (Casa del Jazz cubano), Calle 0, # 314, entre 3ra y 3ra A; La Cecilia (also restaurant), groups, outdoor stage. Avenida 5ta, e/110 y 112; La Maison, shows nightly, 22h15-00h30. Calle 16 #701, corner 7ma; Teatro Karl Marx, 5,500 seats, the largest concert venue of the country; been there, done that : Los Van Van, Buena Vista Social Club, Pablo Milanes et al. Ave 1ra, corner 8 in Miramar.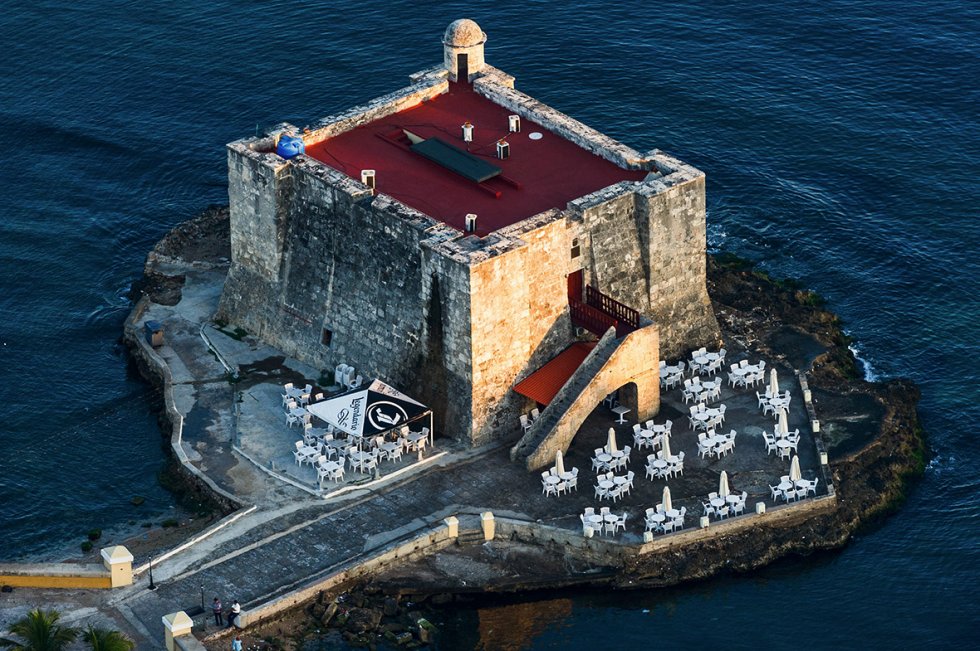 Torreon de la Chorrera, is located at the mouth of Almendares River, it was built in 1646 and today houses a restaurant. © unseen cuba, marius jovaisa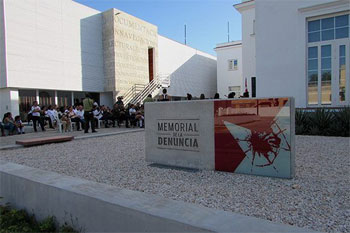 Since August 2017, a new museum site leaves no one apathetic : Memorial de la Denuncia displays most scams and other crimes committed by the US government against the Cuban people. At the corner of Quinta (5ta) and Calle 14 (quatorce). Other photos and videos here. © cynthia garcia casañas, cubadebate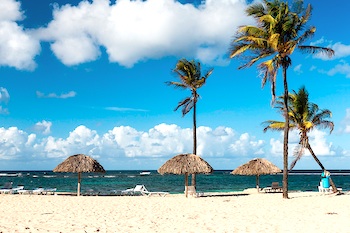 Club Havana* is located in reparto Flores (map) 25 blocks past the Palacio de Convenciones and it's open to anyone who can afford its 1200cuc per year membership fee. Visitors and other travellers can pay 30cuc for the day (well worth it) to hobnob with the elite, the diplomats and their hangers-on and enjoy its bars, restaurants, swimming pools (mouseover) and this lovely beach, closest to the Capital. Save on cab fare : take the Metrobus, route P10 (map here) from the Capitolio. Otherwise, one has to go 25 km to Guanabo (playas del Este) for a beach. *called the Biltmore during Batista's reign : the President/dictator was not allowed entry because of the colour of his skin... © robin thom, flickr



25 MILLION VISITORS AND GROWING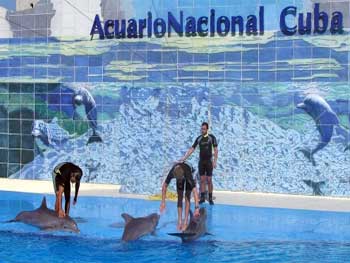 Second most visited spot on the island after El Cobre near Santiago, there have been over the years more than 25 million young and old visitors who have toured the large attractions of the Acuario Nacional where Cubans and other life travellers can learn about the island's numerous marine mammals and invertebrates.

Besides the classic half-hour dolphin show, one can admire many tankfuls of colourful sea fauna, a cave with rich water life, the replica of an eco path and a surprising mangrove.

One can also find on its premises the Restaurante Subacuatico (hard to locate) for affordable fish and seafood. Minimum food cover is 8 cuc.

Founded in 1960, completely renovated in January 2002, it is not only a bonafide research and environmental education center but also one of the most popular attractions in Cuba's history.

Tuesday to Sunday, 10h-18h. Admission fee : adult tourists 5 cuc, students and children, 3 cuc. Tel. (7) 202-5872 Avenida 1ra. Nº 6002, corner of 6, in the Miramar area of Playa. Photos © Howard Norfolk, aquarticles.com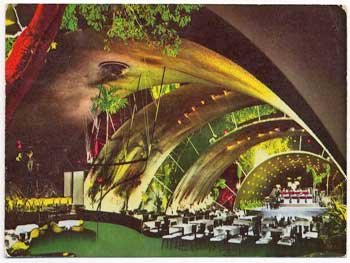 In the Bélen area of Playa, the Cabaret Tropicana in 1954. It's still one of the most fabulous dinner showplaces on the planet, albeit not as in its heyday. Other photos from the Guardian here. •|• Graffitis pop-pol in Bélen © sogestour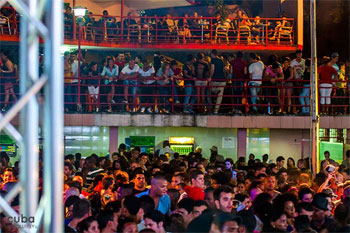 Near the Pedro Marrero stadium, one of the city's top spots for dancing, prancing and cruising to fabulous sounds is Salon Rosado "There is something extra special about outdoor venues, and this salsa palace in Playa is an all-time favorite." Located on the corner of 41 (straight-line continuation of calle 23 from Vedado) and 46, Nicanor del Campo, says lahabana dot com © 2015 cubaabsolutely.com •|• In nearby Flores, there used to be luxurious bathing spots with ornate buildings and rich patrons.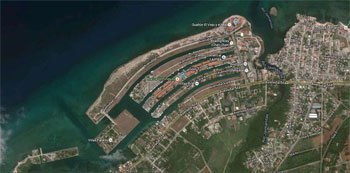 People sail from all over to dock at a huge marine city - with streets made of water - dedicated to a Nobel kind of guy, noble raconteur, nazi-chaser, auteur, womanizer and adventurer : Marina Hemingway, meeting place of sailors, motorized or winderized. One of its three hotels is named El Viejo y El Mar, and it reopened, mid-Feb 2018 after refurbishing.


Fundación Naturaleza y El Hombre
5B Ave # 6611, e / calle 66 y calle 70
Mon-Fri 9am-16h Admission: 3cuc
Tel. (7) 209-2885 or 204-0438
Public Transport : Metrobus P1, P4 or P10
In this museum dedicated to "Man in Nature," is kept the works of Antonio Nuñez Jimenez (1923-1998), Cuban explorer (Andes, China, Antarctic, North Pole, Galapagos, Easter Island), who was a naturalist long before the liberation of Cuba. At 17, he founded the Sociedad Espeleológica Cuba. He earned two doctorates in La Habana, in Philosophy and Letters in 1951.
Three years later, the dictator Batista demanded that all copies of his first book "Geografia de Cuba" be destroyed because it described too well the misery of Cubans under his corrupted power.
Nuñez Jimenez fought alongside the Che. At the begining of the Revoulcion, Fidel appointed him first director of the institute which undertook the first (capital) action of the Revolucion : the agrarian reform. He succeeded Guevara as President of the National Bank of Cuba and was the founding president of the Nueva Academia de Ciencias, then Deputy Minister of Culture and President of the National Commission of Monuments.
Recognized around the world, he was a member of the US National Speleological Society and the National Geographic Society in 1987 and managed an extraordinary journey of 17,422 kilometers down the Amazon bassin by canoe from the river's source all the way to the Bahamas.
His numerous explorations of the many caves that dot the underground of the island, this extra ordinary human being was seen at the end of his life as "the fourth discoverer of Cuba", with the same importance as Cristóbal Colón, Alejandro de Humboldt and Fernando Ortiz.
Artifacts from his collection of personal items, his literary works (190 books and hundreds of articles and conferences) and photos, one of the largest collections in the country are all at the Fundacion offices.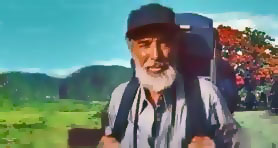 Antonio Nuñez Jimenez (1923-1998)


Web site here.
RECOMMENDED BY PAPERBACK GUIDES
Eyewitness DK Gallimard (ET), Footprint (FH), Frommer's Easy Guide (FG), Le Routard (LR), Lonely Planet (LP), Michelin (MC), Moon Handbooks (MH), National Geographic (NG), Petit Futé (PF)
::: ET : Estudio Alicia ::: FG : Cleo y Alejandro, Gertrudis Martorell ::: FH : Villa Reina, Nieves y Marlen ::: LP : Guevara Alba, Villa Teresa ::: LR : Casa Saulius, Nayra de Marcos Lopez, Alicia Maggi, Loly y Alberto, Clarisa Santiago Esquivel ::: MC : Candy Mederos y Alejandro ::: MH : Fernando y Egeria Gonzalez, Elena Sanchez, Reynaldo y Yasmina, Casa de Maria, Maria Torralbas, Ana y Ismael, Isabel Betancourt (dans Santa Fe) ::: NG : Casa Estudio Alicia ::: PF : Jesus Valdez, Ordaz (Siboney), Pension Doña Fa (Siboney) 090218

TOP-RATED BY TRIP ADVISOR
::: TA (Eval.) : B&B Lupe (33), Villa Sofia (66), Alturas de Miramar (34), La Rosa de Ortega (10 de Octubre) 561, Doña Amalia (Boyeros) 315 010518