| | | | |
| --- | --- | --- | --- |
| | | | |
| Callejon de Hamel, Parque Maceo, San Rafael a pedestrian street, Casa de la Musica, Teatro America, the Chinese quarter aka Barrio Chino, the Malecon, Studio Egrem (Buena Vista Social Club). 700 casas particulares Paseo del Prado, Capitolio, Parque Central | Miramar its beeg hotels and Acuario Nacional; Centro de Convenciones; beach and pools of Club Habana, 100 embassies, Marina Hemingway and two big parks : Parque Almendares, Bosque Metropolitano,. | Habana Libre + Nacional, Yara, Coppelia, Universidad •]• Plaza de la Revolución, Zoo, Viazul •]• Esquina 23 y L, Cinemateca, Cementerio Colon. Bars, parks, paladars, UNEAC, Malecon, Casa de las Americas, beisbol stadium | Obispo the pedestrian, the port, 30 museums including Museo de Bellas Artes & Museo de la Revolucion + 15 small chic hotels, main train station, Bodeguita del Medio, Floridita, its 5 plazas, Edificio Bacardi, Capitolio, Prado & Parque Central, ferry to Regla |
{ FLIGHT ARRIVALS TODAY }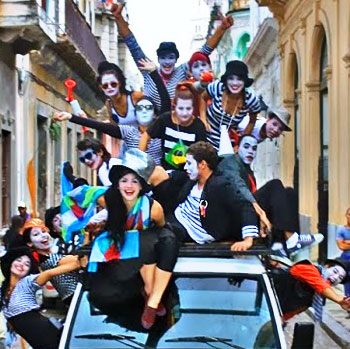 Carpe Diem expressed by this lovely bunch of jovenes riding on a Centro street © unk, havanatimes.org 5th annual photo contest

80-PAGE ENGLISH PDF GUIDE
INFOTUR
FREE !

SIGHTS - ATM'S - WIFI - HOTELS -REST RANTS
TRAVEL BY BUS THE OTHER WAY
The Conectando Cuba service makes it easier for travelers staying in casas to move around - avoiding having to wait in crowded Viazul terminals. The bus service is run by Transtur : you can't book ahead, just have to show up at the departure point - hotel, resort, airport. 14-page Sked & Rates here.

HMMMM..., BOTOX INJECTION
"Today, you can get your iPhone unlocked, your navel pierced, Botox injections and many more services we never dreamed of a decade ago. " Conner Gorry knows best — Here

BIKE REPAIRS & + BIKE TOURS
• Taller Velo located on the northwest corner, behind the Coppelia ice cream parlour, calle 21, No. 160, e/L y K. - "With a one-day notice, they rented us two Canadian-made bikes for three weeks, which we used without problems on 500 km of city streets and country roads". Cel. 52 82 51 48, landline (7) 836-8820 E-mail @ Sources : estomecuadra + stefan-loose • CubaRuta calle 16 No. 152 esquina (corner) 13 in Vedado. Cel. 52 47 66 33 Ellie (speaks Ingles) handles the 14cuc bike tour. cubarutabikes.com @
CA$H — Banco Metropolitano ATM branches in town - in Dec 2017, there were 527 ATM's in Havana, 400 more across the island — List here
MAP — From the Yara Ciné to the Bacardi
Habana Centro + Vedado to Vieja — Wide

MAP — West to East along coast — Here

THE WHOLE CAPITAL IN A SNAP
Greater Habana 30 km x 35 km — Wide

10 THINGS TO DO DOWNTOWN
Top Sights, as suggested by Lonely Planet readers — Here

1000+
HAVANA PHOTOS
Panoramio —
Here
NEW CUBAN ECONOMY
- Miami Herald 14.12.14
CARS • BUS • FLIGHTS • TRAINS
See "Touring Cuba" Menu above or here.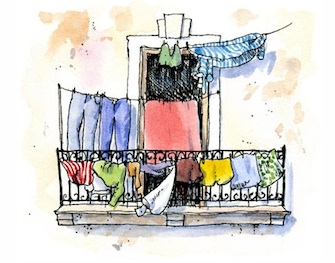 Hanging on the balcony in Centro, they'll be dry in no time. © Floating Rabbit


YOGA CLASSES FINDER Here.

THE STORY OF YOGA IN CUBA Here.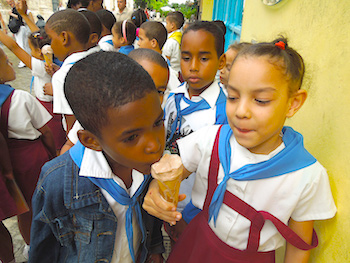 A girl shares her ice cream with a friend and classmate during a school outing in Old Havana. © Alfonso Aguilar, México for the 2015 havanatimes.org Photo Contest

GO WEST : HILLS, VALLEYS & CAYOS

Road map to Soroa, Las Terrazas, Cayo Jutias, Cayo Levisa, Cabo San Antonio, Maria La Gorda — Here

GO EAST, TO THE BEACHES

The famous beaches at Playas del Este await where most Habaneros flock in summer— Here in Guanabo

YOU MUS GO BY BUS, GUS
Conectando Cuba by Transtur —
Island-wide bus skeds —
Renovated Viazul web site here.

UNDERSTAND CUBA IN 480 SECONDS

Video about backyard food growing, Havana-Style in this "BEAUTIFUL, RUINED AND SEXIEST PLACE ON THIS EARTH" - the BBC's Monty Don Here

GET YOUR FIX - WI-FI HOTSPOTS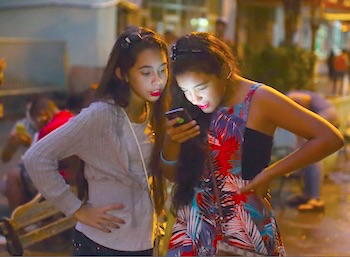 Tourists can purchase a scratchcard with password for laptops, smartphones and tablets to access a wi-fi connection - in public parks and pedestrian streets. For 1 cuc per hour, (2cucs in July 2015) available from Etecsa (Nauta, Telepunto, etc) offices in all major towns. 500 wifi spots listed here.
By July 2016, some 11 million of these scratch cards had been sold in Cuba. © Juan Suarez, havanatimes.org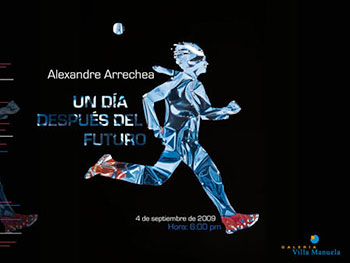 No need to run, check out our list of WHAT'S ON Havana web pages. Look up this page and right. •|• ON CLICK Fidel The Lost Interview by
Clark Hewitt Galloway in Havana in 1959


MARIELA CASTRO IN RED LIGHT
Visiting Amsterdam's Red Light District as director of CENESEX, Fidel's niece talks about prostitution on the Havana Malecon and says that although the Dutch experience is not without fault, it has improved sex workers' rights © Radio Netherlands Worldwide — YouTube here. In Spanish.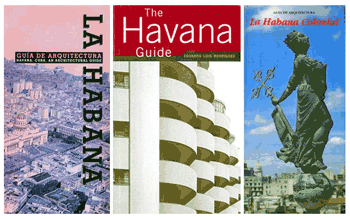 GAY TOUR GUIDE + SPOTS
English-speaking Cuban University student offers tours : "This is not an escort service (...) my parents would kill me." — Yunior's page here. Gay spots listed in What's On - May 2014 [PDF Here]
CANADIAN CULTURE FAQ
How to organize an art event, make a donation, an internship or studies. Check it out here, eh ?

URBAN FARMING EXPERTISE
Who can I contact about urban farming in Cuba ? Answer on this havanatimes.org column here

IN AND AROUND THE CAPITAL
See, do, know, find, enjoy - Notes from Moon

300,000 CUENTAPROPISTAS NYT

DOING ISA ON SKATES, MATES

Instituto Superior de Artes, one of the architectural marvels of the Americas is the main reason Cuba produces so many talented artists. Javier and friends are trying to raise funds and awareness to support a 5-part video project © Alas Skate Corps



"No one should pretend that the people of this noble and selfless country will renounce its glory and its rights," Fidel Castro wrote. "We are capable of producing the food and material wealth that we need with the work and intelligence of our people."


BEISBOL CUBANO HALL OF FAME
HERE
2017-2018 BASEBALL SCHEDULE HERE
SANTERIA REVEALED by Lydia Bell
THE CANADIAN EMBASSY IS HERE

CITY BIKE TOUR 3 hours, 29CUC HERE

NOT A MARKET-BASED ECONOMY HERE
Another point of view — from Cuban gays here. A Cuban first, a Law protecting rights of LBGT was adopted on December 23, 2013. Link.


1,000,000 PEACE & MUSIC LOVERS ...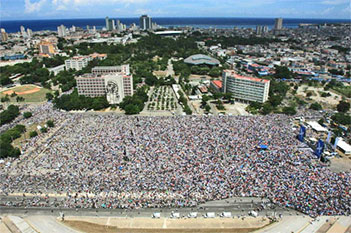 ... overflowed the Plaza de la Revolucion for the Paz sin Fronteras concert on September 21 2009 : Silvio Rodríguez and Los Van Van, Porto Rican merengue star Olga Tañon, Spanish crooner Miguel Bosé, New York latin-funk group Yerba Buena and hip-hop trio Orishas among others. Video excerpt on click.


MAIN AREAS
Habana Vieja (Plaza de Armas, Plaza Vieja, Plaza San Francisco), Centro Habana (Barrio Chino, Capitolio, Malecon, Prado), Vedado (Cementerio de Colon, La Rampa, Malecon, Nuevo Vedado, Plaza de la Revolución) and west, beyond the Almendares river Miramar/Playa (Convention Centre, Marina Hemingway, Atabey, Barlovento, Bélen, Buenavista, Cubanacán, Flores, Kohly, Nautico, Siboney).

OTHER MUNICIPIOS & REPARTOS
East of town, across the bay : Regla, Casablanca, Cojímar, Guanabacoa, Habana del Este (Alamar, Antonio Guiteras, Celimar, Ciudad Panamericano, Tarará) ; Further east : Playas del Este (Boca Ciega, El Megano, Guanabo, Santa Maria del Mar, Santa Maria Loma) ; West, across the Almendares river : Marianao (Ciudad Libertad, La Paz, Pogolotti, Zamora) ; South : Parque Lenin (Arroyo Naranjo, Boyeros, Calabazar, El Globo, Fontanar, and José Marti airport in Rancho Boyeros) including the Botanical Gardens (Jardin Botanico Celia Sanchez Manduley), neighbouring Parque Lenin as well as Parque Zoologico and Expo Cuba (Trade Fairgrounds) See our page here.

DISTANCIAS — HAVANA IS BEEG
Aeropuerto José Martí, 15 km
Alamar, 15
Artemisa, 60 Road map
Cojimar, 10 — Our section here
Las Terrazas, 40 Road map — Our page here
Mariel, 45 Road map
Playa Baracoa, 27 — Our section here
Playas del Este, Guanabo, 25 — Our page here
San Antonio de Los Baños, 35
San José de Las Lajas, 35
Santa Maria del Rosario, 19
Soroa, 65 Road map — Our page here
Surgidero de Batabanó, 56 (ferry to Isla de la Juventud, Isle of Youth, Isle of Pines - Nueva Gerona) Island road map — Our page here



Dancing to the beat of a world on the edge. Things Cuban on our tumblr blog, como no ! sogestour


Rihanna bares all in the bedroom of the Josie Alonso House.
Photograph by Annie Leibovitz; Styled by Jessica Diehl. © Vanity Fair, October 2015
WHAT'S ON ::: WHEN ::: LINKS


::: Artists' Agenda - Havana Cultura > Here

::: Architecture in Havana and Cuba > Here

::: Musicians recording in Havana > youtube

::: What's On from cuba-absolutely > Here

::: Plastic Arts National Council > Here

::: Literature Portal - Cuba Literaria > Here

::: Writers and Artists' Union > UNEAC

::: Art and culture worldwide > CubanArtNews

RECYCLED AND ORGANIC


Sustainable farming model in a gas-driven world : "the food is diverse and completely sustainable. Everything is recycled and organic". Click photo for pulitzercenter.org article © SteveYYZ, photobucket

THE STORY OF YOGA IN CUBA

The
Godfather of Cuban yoga
has taught over 20,000 practitioners in Havana alone. © Robert Sturman


FIRST ELECTRIC BUS IN CUBA

In December 2017, t
he all-electric E12-type "Zero Emission" bus made by Yutong of China started running on Ruta 18 which begins at
Terminal Palatino
, rides on Calzada del Cerro, Infanta, Zanja and Monserrate streets towards Habana Vieja up to Avenida del Puerto, where it ends its run at
Muelle la Luz
- from where the cross-bay ferry goes to La Regla
© Alejandro Rojas, cubadebate

THEY CHOOSIN' TO GO CRUISIN'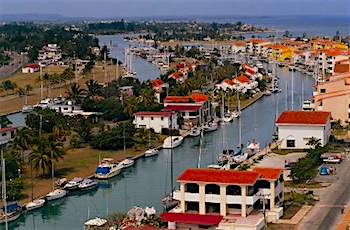 Another kind of tourism is also booming in these here parts : cruising to or 'round the island. Its most famous port is Marina Hemingway (photo). Aficionados will start by downloading this 524-page Cruising Guide. — © Caridad for havanatimes.org

LET IT BE, COMO NO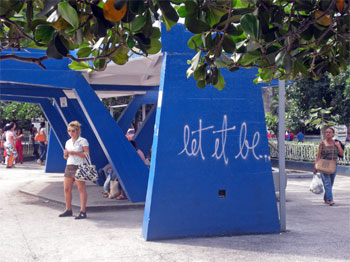 let it be [words of peace made famous by Paul McCartney — the John Lennon park is a few blocks down the same street, calle 23], one of many street art signatures and graffiti which have sprouted in Fall 2013, a Havana Times article by Isbel Diaz Torres •|• Linda cocotaxi driver © sogestour

ICONIC : MALECON & NACIONAL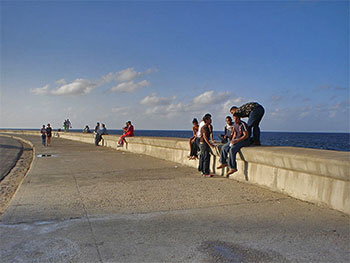 El Malecon : the long and winding seaside boulevard runs from the port in Habana Vieja all along Centro and Vedado and ends at the Almendares river where a tunnel crosses to Miramar and Playa burroughs (with the embassies and the Convention Centre) © Maxime Felder, wikimedia commons •|• The Nacional : was built and run by Meyer Lansky and the US mafia, supported by Hollywood and yet-to-be President Richard Nixon; today, it's Havana's landmark hotel © sogestour

WE ARE HAPPY HERE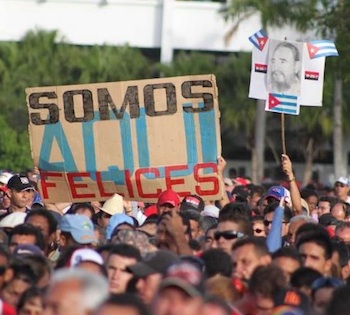 « Aqui Somos Felices », we're happy here contrary to what negationistas, anticubanistas, bullshit bloggers or just plain losers would have you believe. The U.S. government has financed Radio Marti from Miami which has cost half a billion dollars over the years, yet has not made any difference, 'cause Cubans know that all that emanates from Florida media is total crap, fake news and absolute bullshit. photo © unk


CUBANS ARE STILL DOING IT

Cuban couples are still doing it, in the style and grandeur which the ceremony requires. Indeed, many jovenes Cubanos truly believe in marriage, a contract sealed by a wedding ceremony. It takes place along the Paseo de Prado in a refurbished building from 1914, a private palace consecrated exclusively by the Revolucion for use as the Palacio de los Matrimonios.

BYOM

Bocaditos en La Habana — some tourists call them ciabatta at home, a yummy combo of ham & cheese toasted just right - byom : bring your own mostaza © Havana Times

CLOSE BUT NO CIGAR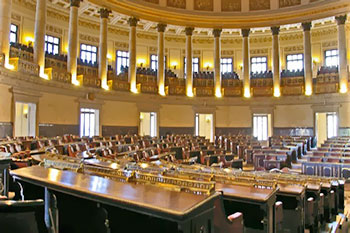 The old Asemblea Nacional located in the Capitolio is a sight to behold, part of a walking tour of the newly-renovated building near Parque Central, the Partagas cigar factory and Habana Vieja and Habana Centro casas particulares. The 650 elected members nowadays convene in a modern building in Plaza de la Revolucion © sogestour

GUAGUA'ING AROUND • SEE MAP

"I suggest taking at least one bus to eavesdrop and to take the pulse of the population of Habaneros quibble and kvetch." > Here is Havana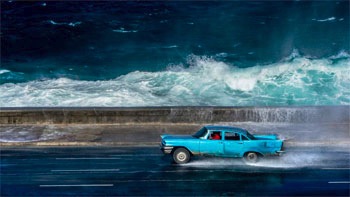 Wave Rider - on the Malecon © alper uke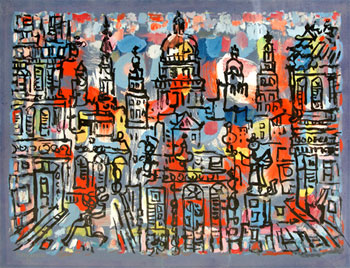 René Portocarrero [1912-1985], Vista de la Ciudad de La Habana, 1970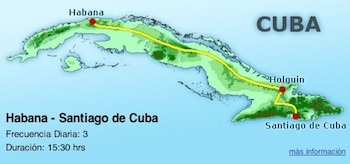 Get outta town : muchas departures every day, eh ?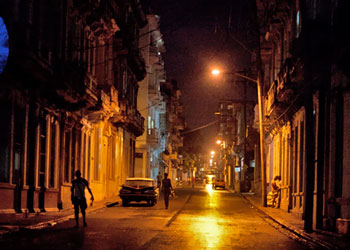 Walking from Habana Vieja to Vedado, I cross the whole of Centro in the middle of the night and I don't feel any fright of being agressed — less than in any US town. Cuba is peaceful and its citizens respect each other. Amen. Photo © havanalifeproject


Sing like no one is listening.
Love like you've never been hurt.
Dance like nobody's watching,
and live like it's heaven on earth.

HAVANA'S LARGE OPEN SPACES
Parque Lenin (645 hectares, amusement park Parque Mariposa, horse and rowboat rentals, lake, restaurants, rodeos) borders the Botanical Gardens (600 hectares, 4,000 species, 140,000 plants), the Zoological Park (500 hectares, 145,000 trees from 75 varieties) and Expo Cuba (fairgrounds on 48 hectares, 34 pavillons), Club de Golf de La Habana (18 holes (2 x 9), BBQ, restaurant, bar, swimming pool).

Parque Lenin is located 15 km south of the Plaza de la Revolucion : a 15-20cuc taxi ride; or take the 174 bus to Vibora and connect to the 88 guagua. Google Map here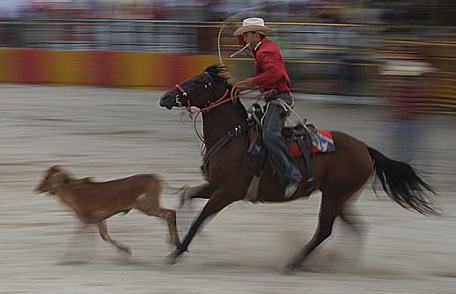 One of the American continent's largest city parks. — Map & Info Here