| | | | |
| --- | --- | --- | --- |
| | | | |
| Callejon de Hamel, Parque Maceo, San Rafael a pedestrian street, Casa de la Musica, Teatro America, the Chinese quarter aka Barrio Chino, the Malecon, Studio Egrem (Buena Vista Social Club). 700 casas particulares Paseo del Prado, Capitolio, Parque Central | Miramar its beeg hotels and Acuario Nacional; Centro de Convenciones; beach and pools of Club Habana, 100 embassies, Marina Hemingway and two big parks : Parque Almendares, Bosque Metropolitano | Habana Libre + Nacional, Yara, Coppelia, Universidad •]• Plaza de la Revolución, Zoo, Viazul •]• Esquina 23 y L, Cinemateca, Cementerio Colon. Bars, parks, paladars, UNEAC, Malecon, Casa de las Americas, beisbol stadium | Obispo the pedestrian, the port, 30 museums including Museo de Bellas Artes & Museo de la Revolucion + 15 small chic hotels, main train station, Bodeguita del Medio, Floridita, its 5 plazas, Edificio Bacardi, Capitolio, Prado & Parque Central, ferry to Regla |
{ FLIGHT ARRIVALS TODAY }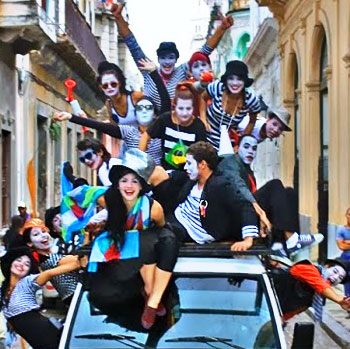 Carpe Diem expressed by this lovely bunch of jovenes riding on a Centro street © unk, havanatimes.org 5th annual photo contest
80-PAGE ENGLISH PDF GUIDE
INFOTUR
FREE !
SIGHTS - ATM'S - WIFI - HOTELS -REST RANTS
IT'S ALWAYS BETTER ON A BICICLETA : BIKE RENTALS & REPAIRS
CUBABIKE WILL LET YOU HAVE ONE IN THE OLD TOWN
Calle San Francisco 117, e/ San Lázaro y Jovellar | Habana Vieja | Ferlan Perez | cel 54 84 44 54 | cubike @ nauta.cu
BICICUBA (TITO) MAY RENT U A 2-WHEELER ON THE 21
Calle 21, e/ calle N y calle O | Vedado | (7) 832 5365 | cel 52 83 11 27 |
BIKE RENTALS & TOURS, PLAZA DE LA VELORUCIÓN
Carlos III (Tercero) #1115, e/ Luaces y Montoro | Plaza de la Revolución, Vedado | cel 54 63 71 03 | WWW
RUTABIKES RENTS BICIS AND MAKES NICE VIDEOS
Calle 16, #152, e/ calle 13 y calle 15 | Vedado | cel 52 47 66 33 | VIDÉO | WWW
ROMA BIKES SHOP RUNS A TIGHT SHIP ON COMPOSTELA
Compostela #255 e/ calle O'Reilly y calle Obispo | Habana Vieja | cel 55 01 35 62 |
VÉLOCUBA - RUN BY 7 WOMEN - 5 CITY BIKE TOURS GUIDED IN FRANÇAIS, INGLES OR DEUTSCH
Montero Sanchez #34, e/ 21 y 23 | Vedado + Obrapia 360, e / Habana y Compostela | Habana Vieja | cel 52 82 51 48 | WWW
CICLOCUBA IS RIGHT BY MUSEO DEL RON (FOR AFTER, LOL)
Calle San Pedro #258, e/ calle Sol y calle Muralla | Habana Vieja | (7) 866 2559 | WWW
HAVANA-BIKES IS IN CENTRO FOR A RENTAL VÉLO
Consulado #61, apto. 2, e/ Genios y Refugio | Habana Centro | (7) 867-6782 | cel 53 06 21 75 | WWW
TALLER VÉLO IS IN THE CENTRE OF CENTRE OF VEDADO
Calle 21, e/ K y L | Habana Vedado | (7) 836-8820 | cel 52 82 51 48 |
BICICLETEAR LA HABANA JOIN THE RIDERS HERE
10 THINGS TO DO DOWNTOWN
Top Sights, as suggested by Lonely Planet readers — Here
CARS • BUS • FLIGHTS • TRAINS
See "Touring Cuba" Menu above or here.

Here.
Here.
Here.
Here
Here in Guanabo
Island-wide bus skeds —
Renovated Viazul web site here.
UNDERSTAND CUBA IN 480 SECONDS
Video about backyard food growing, Havana-Style in this "BEAUTIFUL, RUINED AND SEXIEST PLACE ON THIS EARTH" - the BBC's Monty Don
Here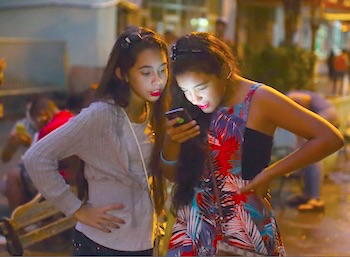 Tourists can purchase a scratchcard with password for laptops, smartphones and tablets to access a wi-fi connection - in public parks and pedestrian streets. For 125cup for 5 hours, available from Etecsa (Nauta, Telepunto, etc) offices in all major towns. 1,095
wifi spots listed here
. © Juan Suarez, havanatimes.org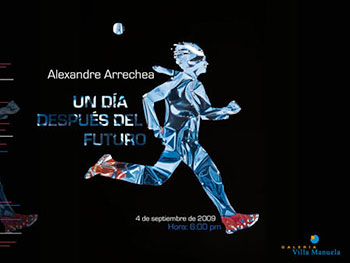 No need to run, check out our list of WHAT'S ON Havana web pages. Look up this page and right. •|• ON CLICK : Fidel The Lost Interview by
Clark Hewitt Galloway in Havana in 1959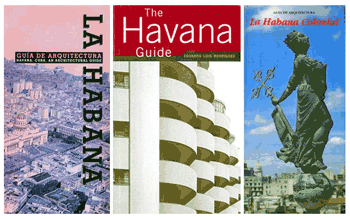 English, Français, Espanol, Italiano. Luis from Matanzas offers walking tours from 50 CUC]
here, eh ?
here
Instituto Superior de Artes, one of the architectural marvels of the Americas is the main reason Cuba produces so many talented artists. Javier and friends are trying to raise funds and awareness to support a 5-part video project © Alas Skate Corps



"No one should pretend that the people of this noble and selfless country will renounce its glory and its rights," Fidel Castro wrote. "We are capable of producing the food and material wealth that we need with the work and intelligence of our people."
BEISBOL CUBANO HALL OF FAME
HERE
SANTERIA REVEALED by Lydia Bell
THE CANADIAN EMBASSY IS HERE
MAIN AREAS
Habana Vieja (Plaza de Armas, Plaza Vieja, Plaza San Francisco), Centro Habana (Barrio Chino, Capitolio, Malecon, Prado), Vedado (Cementerio de Colon, La Rampa, Malecon, Nuevo Vedado, Plaza de la Revolución) and west, beyond the Almendares river Miramar/Playa (Convention Centre, Marina Hemingway, Atabey, Barlovento, Bélen, Buenavista, Cubanacán, Flores, Kohly, Nautico, Siboney).

OTHER MUNICIPIOS & REPARTOS
East of town, across the bay : Regla, Casablanca, Cojímar, Guanabacoa, Habana del Este (Alamar, Antonio Guiteras, Celimar, Ciudad Panamericano, Tarará) ; Further east : Playas del Este (Boca Ciega, El Megano, Guanabo, Santa Maria del Mar, Santa Maria Loma) ; West, across the Almendares river : Marianao (Ciudad Libertad, La Paz, Pogolotti, Zamora) ; South : Parque Lenin (Arroyo Naranjo, Boyeros, Calabazar, El Globo, Fontanar, and José Marti airport in Rancho Boyeros) including the Botanical Gardens (Jardin Botanico Celia Sanchez Manduley), neighbouring Parque Lenin as well as Parque Zoologico and Expo Cuba (Trade Fairgrounds) See our page here.

DISTANCIAS — HAVANA IS BEEG
Aeropuerto José Martí, 15 km
Alamar, 15
Artemisa, 60 Road map
Cojimar, 10 — Our section here
Las Terrazas, 40 Road map — Our page here
Mariel, 45 Road map
Playa Baracoa, 27 — Our section here
Playas del Este, Guanabo, 25 — Our page here
San Antonio de Los Baños, 35
San José de Las Lajas, 35
Santa Maria del Rosario, 19
Soroa, 65 Road map — Our page here
Surgidero de Batabanó, 56 (ferry to Isla de la Juventud, Isle of Youth, Isle of Pines - Nueva Gerona) Island road map — Our page here
Dancing to the beat of a world on the edge. Things Cuban on
cubacasas.tumblr.com
blog, como no !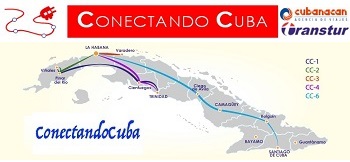 Every day, a Conectando Cuba bus

may

leave Habana hotels after 8 am for Viñales 37US$/€ or Trinidad 63US$/€. Check with the Cubanacan office calle 23 y P in

Vedado

or calle 41 #2213 e/22 y 24 in Playa (

Miramar

) Tel. (7) 204-6552 ext 101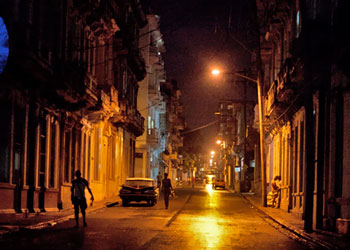 Walking from Habana Vieja to Vedado, I cross the whole of Centro in the middle of the night and I don't feel any fright of being agressed — as in any US town;
in the United States, e
very 73 seconds another American is sexually assaulted

.
Cuba is peaceful and its citizens respect each other. No NRA, no porn, no casinos. Amen. Photo © havanalifeproject
Sing like no one is listening.
Love like you've never been hurt.
Dance like nobody's watching,
and live like it's heaven on earth.
HAVANA'S LARGE OPEN SPACES
Parque Lenin (645 hectares, amusement park

Parque Mariposa

, horse and rowboat rentals, lake, restaurants, rodeos) borders the

Jardin Botanico Nacional (Botanical Gardens)

re-opened in August 2019 (600 hectares, 4,000 species, 140,000 plants), the

Zoological Park

(500 hectares, 145,000 trees from 75 varieties) and

Expo Cuba

(fairgrounds on 48 hectares, 34 pavillons),

Club de Golf de La Habana

(18 holes (2 x 9), BBQ, restaurant, bar, swimming pool).
Parque Lenin is located 15 km south of the Plaza de la Revolucion : a 15-20cuc taxi ride; or take the 174 bus to Vibora and connect to the 88 guagua. Google Map here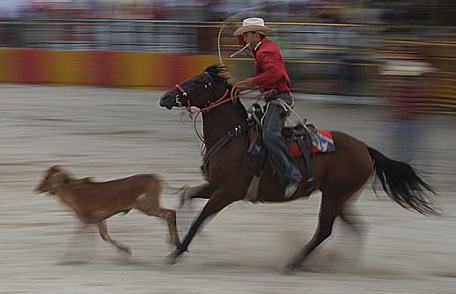 One of the American continent's largest city parks. —
Map & Info Here
A feminist city guide to Havana
© Kamira/Shutterstock
In the 1940s, the S.S. Florida returns to Miami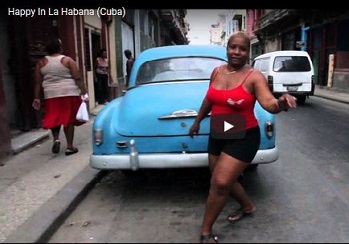 Habaneros movin and groovin to Pharrell Williams : 3 minutes 34 seconds of felicidad del momento, ie carpe diem. Opens on youtube. Read GrayCloudFOX!'s comment.






Thriving ! Watch this video. >










RECYCLED AND ORGANIC
Sustainable farming model in a gas-driven world : "the food is diverse and completely sustainable. Everything is recycled and organic". Click photo for pulitzercenter.org article © SteveYYZ, photobucket
THE STORY OF YOGA IN CUBA
The
Godfather of Cuban yoga
has taught over 20,000 practitioners in Havana alone. © Robert Sturman
ELECTRIC
&
HYBRID
BUSSES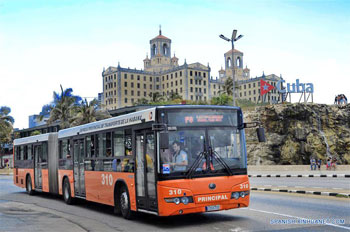 Since December 2017,
"Zero Emission" and hybrid, articulated busses made by Yutong of China have been running on the major routes of the capital, as well as some in Santiago
. It's a start to the renovation of the 700-bus fleet, spread over 126 routes in the capital.

Station & route list on click

© Alejandro Rojas, cubadebate
THEY CHOOSIN' TO GO CRUISIN'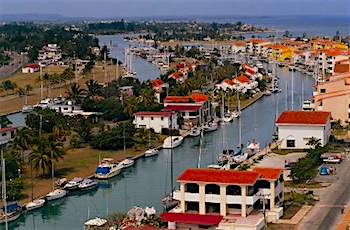 Another kind of tourism is also booming in these here parts : cruising to or 'round the island. Its most famous port is Marina Hemingway (photo). Aficionados will start by downloading
this 524-page Cruising Guide.
— © Caridad for havanatimes.org
ICONIC : MALECON & NACIONAL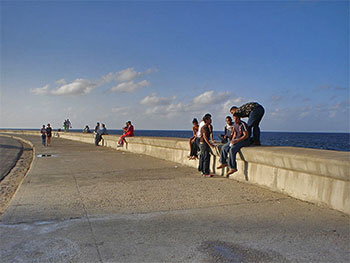 El Malecon : the long and winding seaside boulevard runs from the port in Habana Vieja all along Centro and Vedado and ends at the Almendares river where a tunnel crosses to Miramar and Playa burroughs (with the embassies and the Convention Centre) © Maxime Felder, wikimedia commons •|• The Nacional : was built and run by Meyer Lansky and the US mafia, supported by Hollywood and yet-to-be President Richard Nixon; today, it's Havana's landmark hotel © sogestour
WE ARE HAPPY HERE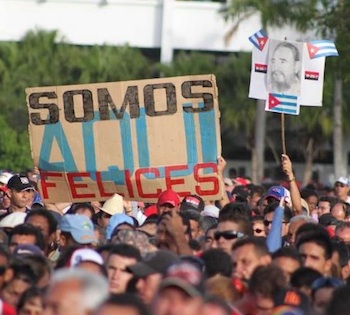 « Aqui Somos Felices », we're happy here contrary to what negationistas, anticubanistas, bullshit bloggers or just plain losers would have you believe. The U.S. government has financed Radio Marti from Miami which at a cost of half a billion dollars over the years, yet has not made any difference, 'cause Cubans know that all that emanates from Florida media is total crap, fake news and absolute bullshit. photo © unk
CUBANS ARE STILL DOING IT
Cuban couples are still doing it, in the style and grandeur which the ceremony requires. Indeed, many jovenes Cubanos truly believe in marriage, a contract sealed by a wedding ceremony. It takes place along the Paseo de Prado in a refurbished building from 1914, a private palace consecrated exclusively by the Revolucion for use as the Palacio de los Matrimonios.
BYOM
Bocaditos en La Habana — some tourists call them ciabatta at home, a yummy combo of ham & cheese toasted just right - byom : bring your own mostaza © Havana Times
JARDIN BOTANICO DE LA HABANA



The

Botanical Gardens

is a gorgeous place with lots to see, such as 3500 plant species unique to Cuba over 600 hectares; planned from 1968, opened in 1984. The greenhouses are a real highlight, housing everything from arid cacti to tropical celebrations. The

Japanese Garden

is both beautiful and the place where you can get the best value lunches in Havana. The best way to enjoy the Garden is through the guided train tour that takes around two hours and explores the entire grounds of the

Jardín Botánico Nacional

with a 30-minute stop at the Japanese Garden.

lahabana.com

© Victoria Alcala
GUAGUA'ING AROUND • SEE MAP
"I suggest taking at least one bus to eavesdrop and to take the pulse of the population of Habaneros quibble and kvetch." > Here is Havana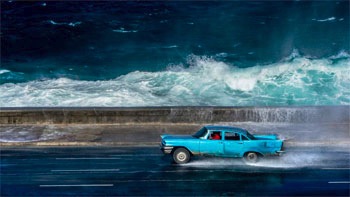 Wave Rider
- on the Malecon © alper uke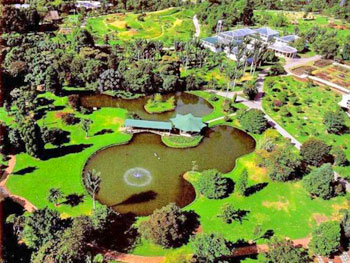 US Restricts All Commercial Flights Except Those To Havana
BOOK

DIRECT

VIA

WHATSAPP - IT'S FREE
From anywhere on this planet

by using

the free WhatsApp

on a cellular phone conected to wifi : first add the casa's cell phone number starting with +53 in your contact list; then go on WhatsApp and add the contact and call.

Google translate English/Spanish here.
ALSO : Avoid roaming :
buy (reserve) a Cuban Sim Card on the Internet from home
and have it installed in the baggage claim area at the Cuban airport on arrival - or later in an Etecsa office.