Casilda
— also called
Puerto Casilda
or
La Casilda
— is the
seaport
of the town of Trinidad, 5 km upland. To get here from the East part of Trinidad (Camilo Cienfuegos street) a straight stretch of the road from Trinidad making up the main street along with two intersections and a railroad track : voilà.
During a century, colonials from Spain exploited the land in the valley of the sugar mills (
Valle de los Ingenios
) using hard labor from thousands of slaves — Cuba had 493,000 in 1841 — who were transported to the port in Casilda, ideally located and protected by the long arm of the
Ancon peninsula
. Slaves were a commodity and arrived along with furniture, porcelain and building materials from Spain and used to decorate the sugar barons' palatial homes in Trinidad.
Only
a 20-min bike ride from Trinidad
, the town has a couple of dollar places, a school, a couple of beauty parlors, a linear public park partially shaded, some public transportation such as horse-driven carriages, the ubiquitous 50's Chevys and Buicks and
1-cuc bus ride to the Ancon Hotel beach
in the employees yellow and red busses stopping at the park
twice per day
.
Compared to La Boca and Trinidad, Casilda is
rather quiet, except for some disco - reggaeton blasting on some nights
nearby in a disaffected building. We are sure that once you are here you will enjoy all that the little village offers, including the nearby beaches on Ancon and the historic city of Trinidad.
DISTANCES
Ancon, 9
Ciego de Avila, 148
Cienfuegos, 85
Hanabanilla, 103
La Habana, 324
La Boca, 9
Manicaragua, 67
Santa Clara, 123
Santiago, 595
Sancti Spiritus, 76
Torre Iznaga, 21
Trinidad, 5
Topes, 26
Varadero, 272


MAPS & LINKS
See town map with some casas
Map of the Ancon Peninsula to Casilda
Detailed road map from Cienfuegos to Casilda
Map - Our own small regional map
Map to and from the heart of the city of Trinidad
Map of the sugar mill valley (Valle de los Ingenios)
Map of Topes de Collantes
TRANSPORT TO ANCON PENINSULA
•
A
three-times per day 1 Euro/$US bus ride to Ancon beach hotels
in the employees yellow and red busses coming from Trinidad and stopping at the Casilda central park. Cheaper than the 4 €/$US
• Rent a bike
to ride to Playa Aguilar or further to Playa Ancon (seaside flat easy road but without shade) or all the way to Trinidad (gradual, gentle uphill to go; easy going down to return).
• By taxi to Trinidad, from Havana
, 3 hrs 30 minutes, (via autopista nationale and Cienfuegos) : figure 25€/$US per person, minimum 4 passengers.
• By Viazul a/c bus
to Trinidad from La Habana : 4 hours, 25€/$US.
POPULATION
1,200
(mas o menos)
PLAYAS
In town territory, none; further (cf. Excursions below), the rocky
playa
at
Maria Aguilar
, (1,7 km) or the small and quiet Playa La Boca (4 km) or in the opposite direction, towards the east along the coast :
Ancon
in nice white sand (2,4 km away) with its four beach hotels (stars, rooms, all-inclusive rate for two per night in Jan 10) :
Hotel Horizontes Costasur
(3*, renovated in 2008, 131 rooms, 92€),
Hotel Gran Caribe Ancon
(3*, 279 rooms, 122€),
Hotel Brisas Trinidad del Mar
(4*, 134 rooms, 134€).
PALADARES & RESTAURANTS
Locally, many have sprouted in recent years. No need for local lodgers to go to Trinidad for fine dining. The reverse is now happening : so many Trinidad paladars have waiting lines that casa guests prefer coming down here for an evening (or lunch) meal. Most if not all specialize in seafood and fish. Try
La Marinera
on Jovellanos 178, e/Iglesia y Perla; "ordered the paella which was fantastic, filled with seafood and very moist—superior to the paella we had at one of Havana's top restaurants." open Noon to 22h Tel (41) 99-5454, cel 52 48 96 84;
El Galeon
on Jovellanos 20; "simple baked lobster with rice pilaf. Mine was the best lobster and the best rice my wife had had. Drinks and deserts were great. Service was great. Nice little bar. Open air area for groups." Tel (41) 99-5428;
La Piragua
on Concordia 11 "This place is amazing. The food just keeps coming to your table. The lobster plates are a must";
Cafetin Yaguajay
on Valdespino behind Cristina Hostal : tiny place with tiny prices "Gustavo is a great cook, funny, charming and educated. Traditional Cuban food, great prices, always busy. Nice patio too.";
Tropical Caribe
on Diego Velázquez # 78 e/ Jovellanos y Concordia. "more popular at lunchtime. We opted for the set menu 20 CUC which turned out to be excellent value. The fish soup was light and the best ever" Tél. (41) 99-5299 Cel 54 08 22 16;
La Gran Piedra
on Jovellanos 165 esq (corner) Perla. Cel 52 51 17 24;
Paraiso
on Iznaga No. 49 e/ calle Diego Velázquez y calle Hernán Cortés Tél. (41) 99-5379 Cel 59 07 16 17;
La Rosa
on Real (main street) #145-B e/ Perla & Iglesia. Tél. (41) 99-5283 Cel 53 77 28 55; outside of town on way to Ancon beaches :
Gril Caletas
on seaside, curva de Alfredo is more of a snack bar kind a place with a view of the road joining Ancon, La Boca and Trinidad;
Grill Caribe
on seaside a bit further down with pricey menu (view included);
MUST-SEE IN TRINIDAD TOWN
Convento San Francisco de Asís (Museo de Lucha contra los Bandidos) • Iglesia Santísima Trinidad • Museo Arquitectura Colonial • Museo Romántico • Palacio Cantero
MUST-SEE IN TRINIDAD AREA
Valle de los Ingenios (San Luis, Manaca Iznaga, etc) by train • Salto (waterfall) Cuba in Parque el Cubano • Topes de Collantes in the Escambray mountains • Playa Ancon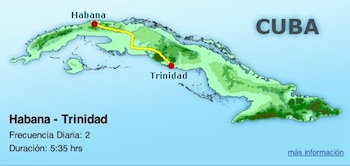 Viazul busses from La Habana
- Trinidad 2 x day on via Entronque de Jaguey, Boca de Guama, Playa Larga, Playa Giron and Cienfuegos — Ruta 18 ::: Also Trinidad - Santiago 1 x day via Sancti Spiritus, Ciego de Avila, Camaguey, Las Tunas, Holguin, Bayamo — 25