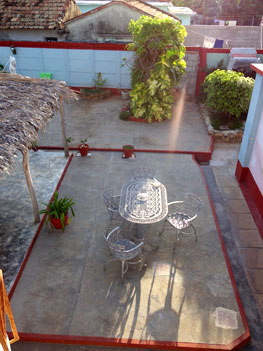 The casa has been providing quality lodging for close to 20 years. Mother Rebeca and daughter Sivia continue to offer only the best rooms and fine meals to their clients.

The large space includes the original casa in front opening on main street with its front porch and chairs — it includes two rental aircon bedrooms on each side of a living room with large tv and sofas.

There is a very large patio partially shaded which offers space for a dining room as well as rockers and other spaces for reading or taking the sun rays.

Along the back of the patio, a third and fourth aircon bedrooms with two 3/4 beds separated by back to back mirrors. A fridge, bagage tables, reading lamps, natural ventilation on both sides with louvered windows and a large shower room make it a great bedroom.
"Actually I am not really sure if I want to write this review because I want to make sure they have a room available the next time I visit Cuba.

This casa, located in Casilda between Trinidad and Playa Ancon, was so good I would go back there just for Rebeca and Sivia. They made our stay very special, and we would return in a heartbeat - even if it's just for coffee and a slice of their awesome cake ; )"