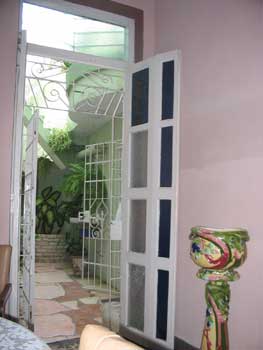 This 1930's post-colonial house is very well furnished. Gabriel ("Gaby") is perpetuating the Marti family tradition of Cuban hospitality - his spouse Ana died in 2014, her sister Libia rents nearby, her brothers rent in Santiago.

Calm and tranquillity guaranteed, even if the house is but two steps from the beautiful Plaza de la Revolucion, a jewel which comes alive on Saturday nights.

Gaby rents two bedrooms each with ensuite bath. One rather large green-themed double-bedded room is upstairs in the back. Modern private bathroom. CD radio player, tv hooked to wall (as in hotel). Very comfy with a second, single bed.

The other bedroom is in front, off the living room witH two beds, an ensuite bathroom, chair, tv and a front window opening to the dead-end (hence very quiet) street.

Large living room opening to dining area. Easy parking in front of house (neighbour will watch).

Rates : 25cuc for each bedroom per night; breakfast 4-5, dinners 10-15.