Every traveller's favorite, Gibara la Perla Hermosa, this lovely pearl of a town is a small, charming and quiet cocoon by the sea, wrapped by hills and woven with culture.

Once Holguin's door to the sea, a rich sugar port, its economy declined with the arrival of the train.


Merchant families once enjoyed the confortable life of their Spaniard forefathers, with the great Caruso performing in its opera house.

Today, it would be great to see the authorities resuscitate the train service from here to Holguin, thereby having a double effect of creating a lot of local traffic for residents and workers as well as supporting Holguin and getting revenues from tourists. Along the coast, there is a project of running a tourist train to Gibara from the beach resorts in Guardalavaca, one of the Caribbean's largest tourist areas.

A program to rejuvenate the colonial buildings (as was done successfully in Old Havana), is timidly starting with the ongoing renovation of the lovely Teatro.

In April 2016, Gibara will stage the 12th edition of its now biennial Festival Internacional del Cine Pobre, a project of one of Cuba's premier directors, Humberto Solas who passed away in September 2008.


DISTANCES (km)
Banes, 103
Bahia Bariay, 10
Bayamo, 104
Caletones, 18
Camaguey, 241
Guardalavaca, 83
Holguin, 32
Las Tunas, 112
Playa Blanca, 27 (or by lancha)
Playa Los Bajos, 30 (or by lancha)
Playa Pesquero Nueva, 33
Puerto Padre, 75
Santiago, 188
Silla de Gibara, 35
Velasco, 30



Divine bodies © aka Cuerpos Divinos, memoirs of Cabrera Infante




POPULATION 72,056 (2007)

SEE.KNOW.DO
• Parks : Calixto Garcia, Colon and Las Madres, all along main street, calle Independencia. (photos here) • Copa del Amor (legendary site in cemetery) • Fortaleza (office of the Historian : say hello to architect Alberto Mora) • Fuerte El Cuartelón • Fuerte Fernando VII • Iglesia de San Fulgencio (Parque Calixto Garcia) • Mirador, the lookout above town : restaurant, bar, snack • Museo del Arte Colonial (reopened after total rebuild as only ground floor remained after hurricaned Ike destroyed the edificio) • Museo de Historia Natural (largest collection of stuffed birds in Cuba, whale : enjoy practicing your Spanish with young Conservador Ernesto Moreno Garcia) • Museo Municipal ()

RESTAURANTS
• Must do : eat lunch at La Culinaria on tiny terrace overlooking the bay - with fabulous views. 'Tis here that Alberto Ronda (a member of national Artechef association — he has done clips for TV) and his apprentices are trying to renovate local regional cuisine with seafood and other delights payable in moneda nacional or the equivalent in CUC (we suppose) : an investment in the future and a tasty bargain • La Concha (dining room of the 4-bedroom Hotel Buenavista, nestled right above the crescent-shaped beach 5 meters below) a vast indoor terrace overlooking the nested beach below, looking west • Mirador de Gibara overlooking the town and bay - a bar mainly with snacks on the edge and a lookout restaurant.

PALADARES
Many private restaurants (paladares) have opened in private casas where owners also rent to travellers. See casa list below.

EVENINGS
• Artex, live music on weekends, 5cuc • Casa de la Cultura, exhibitions and more • Ciné Jiba, main venue of the film festival • Outdoor stage on the Malecon (the seaside sidewalk). Fond memories of a 29 Dec. night along with 800 young spectators, enjoying on stage, a group of young rappers, Tecno Caribe.

LOCAL PLAYAS
• Playa de Gibara, entrance of town, at the foot of Aguilera and Gomez streets ::: These are deserted in winter (Oct to May). • Playa Bavado • Playacita El Faro (great summer photo-op) • Playa La Concha

PLAYAS IN THE AREA
• Playa Blanca, (across the bay, by barca, the ferry, Gray 4 on map) or by car, around the bay, about 28 k's • Playa Los Bajos, 30 km by car, past Playa Blanca : busy in summer, its casas are deserted (and unrentable) in winter • Playa Caletones, 18 km (3 small beaches in this village of 268) • Playa Pesquero Nueva (in Guardalavaca, largest resort complex in the country), 53 km.

SERVICES
Hotel Buenavista with its La Concha dining room and restaurant overlooking the playa of the same name is located on the seaside; upstairs, four renovated bedrooms for 25cuc with breakfasts; 20cuc pp with dinners • $$$ Note : although there are two banks in town, neither offers advance cash funds debited from a credit card. Better get enough convertible pesos when going through Holguin • There is still no publicly-available Internet connection here • Cellular phones work. • In Holguin : Aeropuerto Frank País 43-93-40, Cubana Office 42-57-07, Airport 46-25-12, Havanautos 48-14-15, Medical 42-53-02, Micar 48-16-52, Transautos 48-10-11, Transtur 42-41-87, Turistaxi 42-41-87

TRANSPORT
• Lancha/Ferry - see Gray 4 on Map - (roofed, 18-passager capacity, 1cuc). Leaves the port at least twice a day. Returns one hour later. Two stops : across the bay in front of town at fishing port of San Antonio and then over at Caliche. • Bus Two daily from Holguin, the first leaving Valiares Terminal at 7, arrives here at 9:30. Another leaves here around 3:30 p.m. from Fulgencio Park. • Taxi particular to and from Holguin for 20cuc : 30 mins.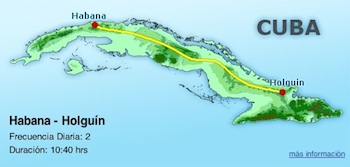 In nearby Holguin a Viazul bus stops 7 times daily from all points east and west; links above — Terminal de guaguas in Gibara is close to the town beach; in Holguin, it is located on Carretera Central No. 19 e/ 20 de Mayo e Independencia Tel. (24) 47-4430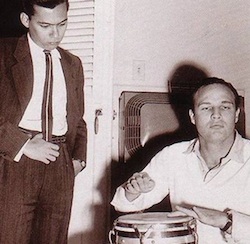 At left, one of Cuba's most famous authors, Guillermo Cabrera Infante (1929-2005) born in Gibara conducted interviews with Marlon Brando (seen here), Luis Buñuel, Indio Fernández, Fred Zinnemann and Noel Coward published in a posthumous memoir, Cuerpos divinos, by his widow Miriam Gomez.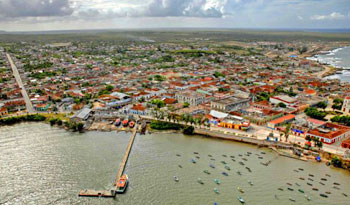 A bird's eye view desde el ojo del pajaro © juan pablo carreras, cubadebate.cu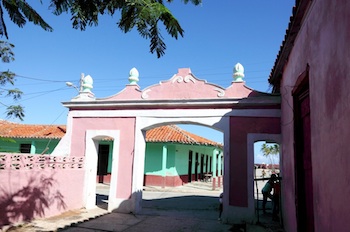 From Parque de las Madres, this is the portal of La Culinaria, the town's new + small + incredibly affordable restaurant re-inventing regional traditional cuisine, guided by Artechef Alberto Ronda © Robin Thom Photography — On click, see Robin's 500+ photos of colourful Gibara la Blanca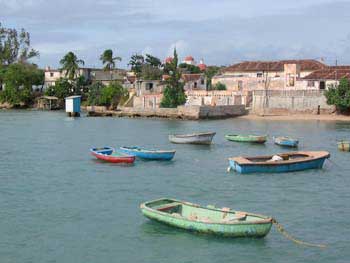 Barcas on the bay © sogestour •|• The Silla (saddle) as seen from tiny San Antonio © sogestour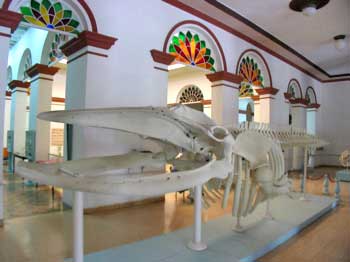 Whale at the Museo de Historia Natural © sogestour •|• Tiny playa in town by Hotel Buenavista (food and lodging) © sogestour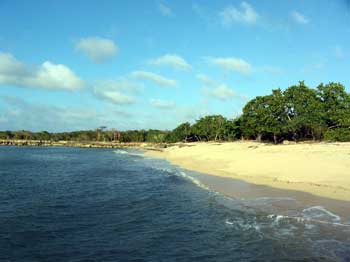 Playa Blanca across the bay © sogestour •|• Kids on deserted Los Bajos road © sogestour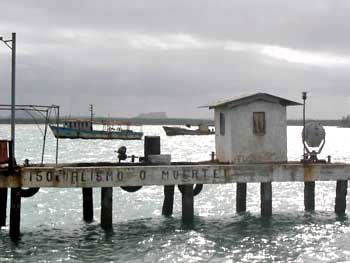 Lancha o puente, ferry or bridge © sogestour •|• Empty seaside casa in Los Bajos © sogestour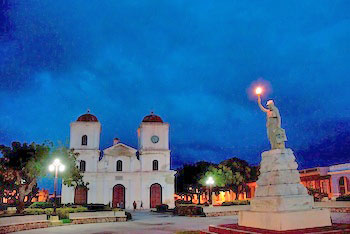 Iglesia San Fulgencio on Parque Calixto Garcia © Robin Thom Photography — On click, see Robin's 15 galleries of photos of colourful Gibara la Blanca •|• To quote Céline Dion : "Get a kayak !" and ride the aguas of the big bahia.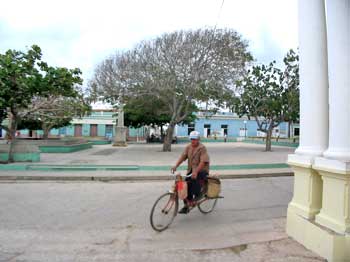 Parque Colon © sogestour •|• Public haircut at the Barbero © sogestour



Some of our casas on this Google Map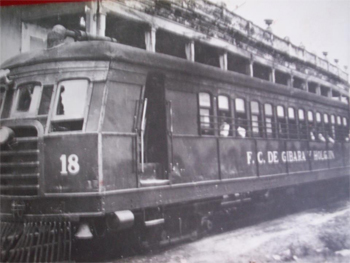 There used to be a passenger train linking the coast with the provincial capital. A bridge fell down, cars and buses using cheap petrol started being imported and whoosh, there went the public transportation policy. Time to rebuild the line with solar or electric power, wot ? Or just plug in to the windmills © renaldito, voyage forum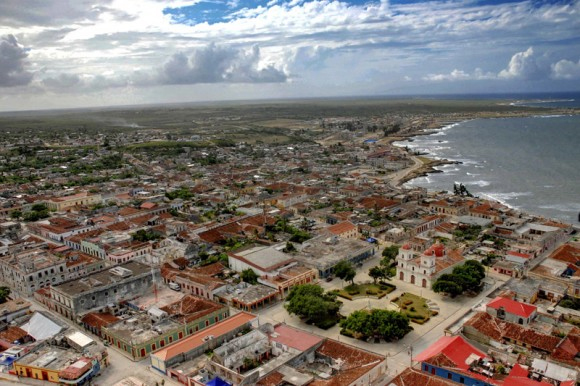 Foreground, the Iglesia San Fulgencio on Parque Calixto Garcia © juan pablo carreras, cubadebate.cu



Dip in a natural pool near playa Caletones, a few k's west of here © renaldito on voyageforum.com

EXCURSIONS
• Playa Blanca, small deserted beach located across the bay (barely visible from atop the Mirador overlooking the town) : it's west of the old boat workshop :normally, one gets there using the ferry; San Antonio a tiny fishing village both across the bay and some 3 km further (by foot : no cars around) : Los Bajos a tiny summer village with a few casas on the sea : access these spots by riding the lancha, a small 15-passenger ferry from Gibara port • La Represa a disaffected dam (presa) which still holds water and forms a small lake and a waterfall where Gibarans love to spend the day...in summer. Less water and action in winter but travellers have the place to themselves. Some 5k's away, turn right before the Campismo La Caridad (42 cabañas, pool, horses) after a left turn on the way to Holguin. Ask around, everyone knows • Cavernas de Panaderos : grottos or caves, 19 galeries, 11km-long underground trail. Go up the hill on Independencia, ask around as they're not marked. At the Fortaleza, staff organises tours with equipment • Natural bassins (swimming in crystal-clear water) and underground marine caves, including Tanque Azul 3km on foot from Caletones. German experts say it could be the world's second longest • Sillas and other mogotes (hills similar to those near Viñales) ; climb La Silla de Gibara on foot (or on horseback from the campismo La Caridad, 8km bike ride away : superb views. (Silla = saddle) • Cueva Fructuoso, a large cave with stalagtites and stalagmites and natural swing branches. Swimming. Quite a job and about one hour to get to, as only high-clearance trucks or 4x4's can manage the road. From town, calle Independencia up the hill and straight on dirt road. Best to go around noon as sunlight will warm and light the natural pond inside. Organize this through friends or casa owners in Gibara • Guardalavaca by the dirt road (4x4 required in summer only) passing the Silla and campismo which lead to it, crossing lovely village of Fray Benito, then Rafael Freyre (village of sugar mill now museum with tourist train reserved for hotel groups), 120 km there and back • Parque Monumento Nacional de Bariay, 88 km east in Rafael Freyre (landing of Colombus, ruins, sculptures, horsedrawn coach ride, restaurant) • In Velasco, 41 km west, Casa Felix Varona Cecilia founded in 1964 by architect Walter Betancourt (1932-1978), protégé of Frank Lloyd Wright to mark his support for the Revolución