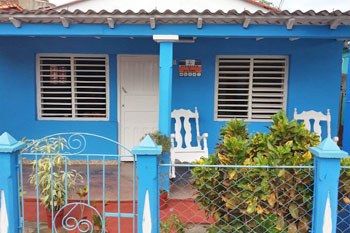 From an article on the web: "Gisselle, a mother in her thirties with two young children describes how she used a small government loan to add a bedroom and bathroom to her home in order to accomodate guests.
"The owners must meet strict sanitary standards, with inspections almost every 45 days. Gisselle and her husband, Randy, who drives a Moskvitch taxi, can rent this ac double bedded room with private ensuite bathroom to tourists. The casa offers homemade breakfasts and, for an additional fee, will provide additional homemade meals. Gisselle hopes to improve her culinary skills and possibly open a restaurant. "
Rates : 15-20cuc for the bedroom per night, breakfasts 4-5cuc, dinners 10 cuc.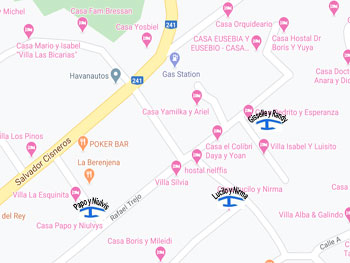 Enlarge with a click, rick
GISSELLE y RANDY
Gisselle Duarte y Randy Rodriguez Suarez
De un artículo en la web: "Gisselle, una madre de 32 años con dos niños, describe cómo utilizó un pequeño préstamo del gobierno para agregar una habitación y un baño especialmente diseñados para su hogar.
"Los propietarios deben cumplir con estrictos estándares sanitarios, con inspecciones casi cada 45 días. Gisselle y su esposo, Randy, que tiene un taxi Moskovich, pueden alquilar una habitación a los turistas. La casa ofrece un desayuno casero y, por una tarifa adicional, proporcionará comidas caseras adicionales. Espera mejorar sus habilidades culinarias y posiblemente abrir un restaurante ".
Precios
: 15-20cuc para el cuarto segun la temporada, desayuno. 4-5cuc, comidas, 10 cuc
.