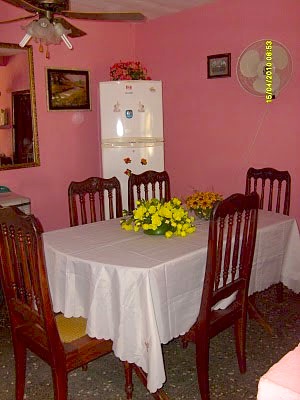 In the nearby valley near Cajuani, Sarita's dad, 82 years young age cultivates a plot of land with his son; he goes to work every day ... on his bicycle. Genoveva is the stepmother of Maribel, charming casa owner in Puerto Esperanza.
So their propaganda ("advertising" in Spanish) says, Sarita, formerly a kindergarten teacher the villa offers "Safety and comfort in a small villa with a typical family atmosphere.

Large terrace with garden to quench the heat of the afternoon in Cuba.

"We offer rent to travelers two (2) bedrooms with private bathroom, two double beds in each, 24 hours hot water, air conditioning, 2 fans
"Services provided:
• Guided tours - horseback riding or hiking.
• Typical Cuban dance classes.
• Visits to historical sites, cultural and natural.
• Taxi service specialist.
• Laundry.
• Meals.
• Massage.
• Parking
• Bicycle rental.

"Everything is offered in the hope of making a great experience of your stay with us."
Prices 20cuc per room per night; 4cuc breakfast, dinner 7-10, free for children. "