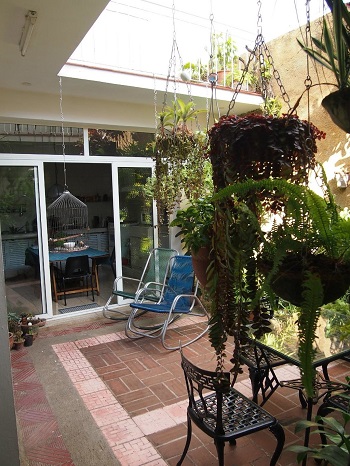 The young architect has at least a decade of experience in teaching and provides in a uniquely modernized building painted blue (hence its name) discerning and tasteful spaces and amenities including three air conditioned bedrooms, each with private bathroom; overlooking a beautiful garden patio, both modern and traditional in its pure features.

Here, as elsewhere, the hosts make the difference. Travellers who have been fortunate to enjoy an estancia here agree that Norka is super-interesting in conversation as well as her recommendations and choice of sites to visit in the capital of the Oriente - her hometown and a place she loves above all.

In addition to the large ground floor with its lovely patio, table and chairs, plants, furniture, all generously bathed by light, Norka has redone the floor above for the bedrooms which share the roof terrace. Sunrises and sunsets there are guaranteed unforgettable.

Rates: 25-30cuc per bedroom per night; food services - quality and originality are considered outstanding; laundry service.