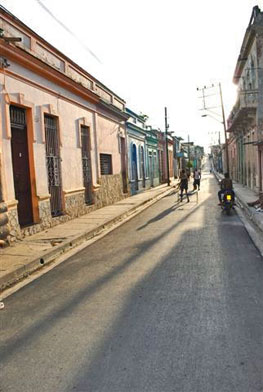 Nestor and Carmen's house at Santa Rosa 290 is located in the heart of the historical center, a 5-minute walk from the Casa de la Trova, the Casa de la Musica, the Parque Cespedes, the Internet office, the Hotel Casa Granda and the Cubatur office.


Nestor worked 30 years in Radio and Television Technical and Maintenance; his wife was an Accountant for 26 years; the couple now both retired lives with their daughter, a student. (Mouseover at left for photo)

Their casa has a nice living room, covered terrace, a hall with ornamental plants and mosaics, kitchen, bathroom and roof laundry room and three bedrooms.

They keep one spacious bedroom for rent to travelers. It has its own private bath, two beds (a double and a single), air conditioning and ceiling fan and two double glazed windows to the outside with super good natural ventilation.

Meal service includes breakfast and dinner with prices ranging between 8 and 10cuc according to what the customer wants for dinner, breakfast with fruit, fruit juice, bread, butter, ham, cheese, coffee, milk or eggs if they so wish, for 3 to 4cuc.