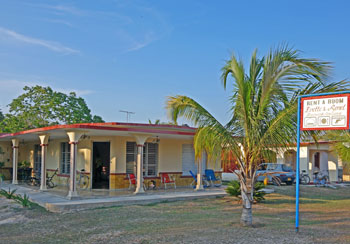 This is a constantly well-maintained recent casa with pretty columns on both sides of its veranda. Of course, the casa offers scuba diving services since Ronel (photo below) has made it his specialty, near Playa Larga.
Ronel the scuba diving guide & instructor and his esposa Ivette now number a few years of experience in their career as rental casa hosts, lodgers, or simply arrendadores.
The couple has a large air-conditioned bedroom in the front behind the living room with three beds and bathroom next door. The couple now rents a second bedroom at the back, behind the kitchen.
Ivette has prepared an elaborate menu for hungry travelers - cooked and served by helping hands; sample the dishes in the large dining room / lounge or eventually in the back, on the lawn.
Diving costs 25cuc per person for a one-hour an all-equiped excursion, accompanied by the divemaster; a dive shuttle goes through town to pick up divers.
Rates : 20-25cuc room per night; meals served; laundry service

"We had a great stay with Ivette and Ronel during our visit to Playa Giron. Ivette and Ronel have a beautiful house with excellent facilities for their guests.

Ivette is an excellent cook and looks after her guests really well. During the daytime we went diving with Ronel who is the lead instructor at the international diving centre in Playa Giron.

It is clear he knows the area well, is very experienced and puts safety as a priority during all of his dives. All in all I couldn't have asked for anything better during our stay here - great clean house, lots of space and great hosts. 10/10! " Shailyn 1112 tripad, August 2013