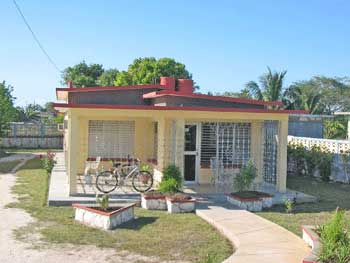 «One of the best casas in Cuba, according to Claire Boobyer — Frommer's Cuba 2011 »

Best address in town run by a lovely and smart young couple.

A modern casa on a large lot : travellers will find, in the back, apart from the main house, two aircon cabinas each with two beds and its own private ensuite bathroom. Both are clean, well laid-out.

The main casa' ranchon-patio is where meals — considered some of the best around by most travellers — are served, if so wished.

Horseback riding, scuba diving and tour guide services available through Luis. When full, he sends guests to cousin Miguel Padron y Odalys.

Rates : 20-25cuc per bedroom per night according to season.