The name means pine buff by the river.
Rio Guama
, that is. Founded in 1774, its layout is somewhat confusing to first-time visitors.
The town, gateway of the famous
Vuelta Abajo
, the large tobacco region of Cuba, has
more trees
than the average large Cuban city. Its
colonial
and
neo-classical
buildings are still standing and kept in shape.
With its university and hospitals, it is the
bustling centre
of the west of the country (
Occidente or Oeste
) and the capital of its cigar industry.
Nearby, the old
Hacienda Cortina
is now a national park (
La Guira
) with some lovely sculptures still remaining amongst the ruins of what was a huge farm owned by
José Manuel Cortina García
(1880-1970), once manager of three sugar mills and longtime politician under three presidents : Zayas, Gomez and Batista.
An able public speaker, Garcia wrote a law protecting workers and was the first international
promoter of the Cuban cigar industry
.
ROUTEMAPS TO
Boca de Galafre, 36
Cayo Jutias, 73
Cienfuegos, 395
Isabel Rubio, 64
La Habana, 185
Las Terrazas, 108
Maria La Gorda, 146
Matanzas, 268
Palma Rubia, 85 (Levisa)
Parque La Guira, 48
San Diego de Los Baños, 55
San Juan y Martinez, 19
Soroa, 86
Viñales, 29

Guanahacabibes [page]
Cabo San Antonio, 187
La Bajada, 132
La Fe, 89
Las Tumbas, 196
Maria La Gorda, 146
Sandino, 80



Che natural by local artist Dausell Valdés
POPULATION
191,577 (2007) in township (Municipio)
SEE.KNOW.DO
•
Catedral de San Rosendo
• Cueva de Los Portales
• Fabrica de Bebidas Casa Garay
• Fábrica de Tabacos Francisco Donatién
• Museo de Ciencias Naturales Sandalio de Noda, located in the Palacio Guash
• Museo Provincial de Historia
• Teatro José Jacinto Milanés
- one of the oldest in Latin America, built in 1839 in neoclassic style, renovated and reopened in December 2006; 540 seats, café for 120 spectators, patio : a must-see
• Jardin Botanico
(65 acres), the west's largest botanical gardens
PALADARES
Casa Don Miguel, El Méson (best in town : 4 tables, full meals 5-6cuc), Nuestra Casa, Rodrigo
RESTAURANTS
La Casona, La Taberna, Mar Init, Rumayor
PLAYAS
Bailén (44 km, not worth it), Boca de Galafre (39), Las Tumbas (196), Maria La Gorda (141)
SERVICES
Since July 2015, wifi for 2cuc/hour is available at Parque Independencia and Parque Roberto Amaran with purchase of a Nauta temporary WIFI_Etecsa account for visitors' smartphone or tablet from the same address as regular Internet service daily 8h30-19h30 at Etecsa-Nauta main office on Gerardo Medina corner of Juan Gualberto Gómez; (Cubans can purchase a permanent wi-fi connection account for their Nauta cell); Radio Guama 1080AM, 90,2FM, Rumbos 48 51-33, Car rentals Havanautos 48
77-4989, Transtur 48 77-8278
HOLY SMOKES : TOP RANKED CIGARS
According to Cigar Aficionado's annual rankings of 2015 :
Cuba's Ramon Allones Specially Selected is rated number 2
[€18,6 per cigar],
Bolivar Belicoso Fino number 9
[€21] and the
Trinidad Vigia, rated number 14
[€21] are the top three Cuban cigars; Nicaragua seems to have taken over the rankings...
EVENINGS
Baseball : Estadio Capitán San Luis (2010-2011 schedule
here
), Cabaret El Patio, Casa de la Musica, Cine Praga, Disco Azul, Rumayor, Teatro Lirico Ernesto Lecuona


TRANSPORTATION
Bus Viazul
: see link above or below.
Tel. (48) 75-0877 or 2571 Terminal is located at Juan Gualberto Gómez No. 14
:::
Trains
from La Habana (see link above) "
El Lechero
" (the Milk Run #225) leaves La Habana at 22h05 every 2nd day arriving here at 03h50; returns (#224) leaves here at 09h45 arriving Havana at 15h30
:::
Local bus
to Viñales (4x day)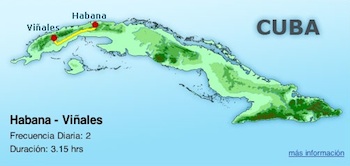 Twice per day, a Viazul bus goes to and from Havana to Viñales stopping in Pinar del Rio. Call it Ruta 10 (Roota Diez) — Click for sked, Fred.