UNA CASA COLONIAL
José Antonio Mesa Rodriguez, aka "Popiro"
y su esposa Aleida Cruz
Calle Gerardo Medina 67, e/ Retiro (Isidro de Armas) y Isabel la Catolica (Adela Azcuy). In centre, 100m from main street (Marti) and bus terminal. Tel. (48) 75-3173

CAVEAT EMPTOR ! Don't fall prey to bs stories — at the door of the casa . If these guys won't let you get in the casa, it's proof they're jiniteros.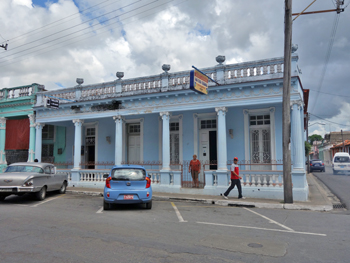 It's a totally refurbished casa right in town centre.

On a large colonial ground, recently renovated, augmented and modernized, Popiro and spouse Aleida rent three large, well furnished and comfortable air-conditioned bedrooms with fans and fridges, each with private bathrooms.

Large living room with vitrales (stained glass), shaded, treed and flowery patio. Meals are served inside in the comedor (dining room) or outside in the shaded and pleasant ranchon with its bar.

Grounds also boast a new (and quite rare) jacuzzi under a pergola.

Enclosed parking behind the patio.