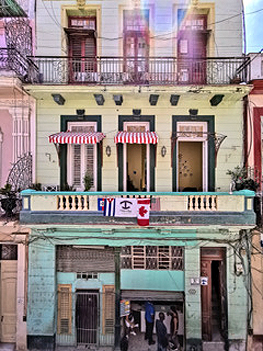 The casa is located above a daytime-only shop.
There's always someone having a conversation or some old clunker going by on busy Villegas.
This is where Raquel has been renting since January 2016 in this her new "finally renovated auberge" where she moved from calle Cristo 12.
The lovely host rents up one floor three air-conditioned bedrooms (the front opens onto street and has one double bed, the 2nd opens from the front door and passageway has a double and a single, the 3rd opens from the small patio and has three beds. Each its ensuite bathroom.

Common spaces include a lovingly-decorated living room, an open-sky patio and a dining room used for breakfasts. She lives upstairs above the kitchen.
Local calls for free; English, Spanish, basic French, Creole, Italian and Portuguese understood.
Rates :30 cuc (25 in low season) per bedroom per night; breakfast is the only meal service, laundry service, safe parking nearby on request, dance lessons and guided tours (city or island-wide) arranged on demand.
L'AUBERGE DE RAQUEL
Raquel S. Sánchez Javier
La casa se encontra en la primera planta. Renta tres habitaciones dobles, cada una con baño privado, climatizacion, mini refri y ventanas.

La habitacion del frente tiene balcón (foto a la derecha) y su cama doble; la 2da frente al portal tiene un sencillo y un doble; la 3ra frente al patio tiene tres camas.

Llamadas telefónicas gratis en la ciudad. Se brinda consejos e informacion útil al turista. Se gestiona aparcamiento privado con personal de seguridad a cargo.

Idiomas para la comunicación: Español, Francés básico, Creole, se comprende Italiano y Portugués.

Oferta servicio de desayuno (no cenas) en el comedor/cocina, bar, lavandería. Precios no incluidos : excursiones dentro y fuera de la ciudad y taxi.

Precios : 30cuc or habitacion hasta dos viajeros en alta turística; es de 25 en baja.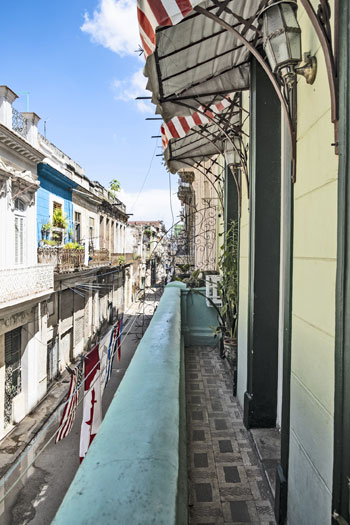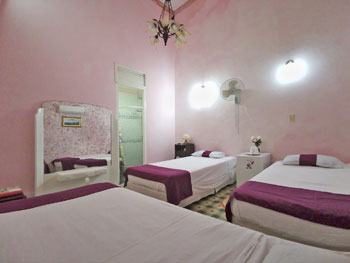 « The welcome was outstanding, with a lot of kindness, natural. Rakel sent a taxi to pick us up at the airport.
"Of Haitian origin, she speaks a little French, it was very convenient to discuss. As a bonus, we had a singer at home.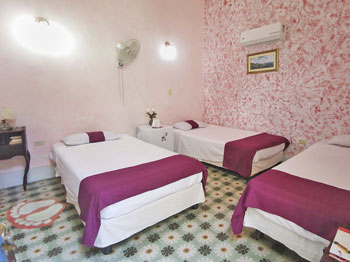 "There are three bedrooms, one with three single beds, one with a double bed and one with a double bed and a single bed. A private bathroom with hot water in each room.

Two of them overlook a small patio. The first, on the street, is romantic, though + difficult to sleep with the noise of the street and, sometimes, the TV. Just ask the host or her assistant to lower the volume ; - )
"Only downside, the house has a long staircase to climb. But, literally all casas are on the 2nd or 3rd floors in old Havana.
"Raquel is an excellent travel arrangement provider. Our stay was 10 days, we were 4, we had just taken the plane ticket and booked our first two nights in Havana.
"I told her what we wanted to do (Havana, Vinales, Varadero, Cienfuegos, Santa Clara, Trinidad, Camaguey, Santiago de Cuba) and she organized our stay by finding us a private driver, and did the whole thing, including reservations in other casas.
"Fa-bu-lous, no false note in the facilities, in the hospitality, in the authenticity.
"Plus, we are vegetarians. She took the necessary steps to transmit the information to the other casas. salome t, 26 dec 2017, tripad visor