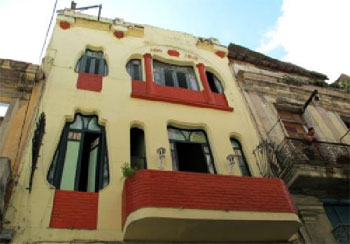 Lourdes' building bears a looker of a facade — one of only 25 in art nouveau style in Old Havana.

It was created in 1913 by an architect known for his smart use of cement and iron turned into pure forms : Mario Rotllant of Catalunia.

Lourdes is hugely-knowledgeable owner, the consumate tourist counselor.


Lourdes rents two air-conditioned bedrooms, each with a double bed (matrimonial), a private bathroom and a ceiling fan. Photos of the casa here.

Guests can be left to their own privacy or can mingle and converse with the non-imposing family.

By the bedroom, the naturally-lit patio is swept by a soft breeze. Guests can read, rest, enjoy a havana or a drink.

An extra single bed can be made available if need be; room is done daily and the casa ofefrs laundry service.

The hostess and her multilingual daughter (English, French, Italian, Portuguese) can help in renting a car or a bike or find transportation (train or bus) or find places of interest all over the island. Family photo here.

Rates : 35cuc for bedroom per night