Cubans have named this town The Birthplace of the Constitution. In fact, it was here that was written and made official the first Cuban Constitucion which specifies « se declaró iguales ante la Ley a todos los habitantes de la república ».

Demanding that "all be equal under the Law", the Ejército Libertador de Mambises completed in 1869 a document whose objective was the liberation of the Cuban people from the colony imposed by Spain.

Thanks to the vision and idealism of Ignacio Agramonte, its main author, other such as Carlos Manuel de Céspedes, Salvador Cisneros Betancourt and Manuel de Quesada were able to assume leadership which would eventually reach the Royal Court in Madrid. Adding her voice to the Cuban demands, Ana Betancourt insisted that womens' rights be the same as everybody else's.

It was in Guaimaro's plaza pública on April 10 1869 that the announcement was made and this was the start of celebrations which lasted weeks here and elsewhere on the island.

Geographically, the area is crossed bu three waterways : rios Guáimaro, Ciego Molina and Saramaguacán. Natural resources include zeolith, copper, kaolin, sand, baryt, gold, and other stone stuff we never heard of ; )

In the Monte Grande sector, most of the land is used for cattle grazing and crops. A large saddlery sellerie nearby and a stone quarry in Palo Seco are some of the important employers in this part of Camaguey province. Every year, locals, camagueyanos and other Cuban vaqueros join guajiros from neighbouring towns such as Cascorro, Martí, Palo Seco, Pueblo Nuevo, San Miguel and Camalote to meet and compete in the great annual fair, the Feria Agropecuaria.

Guáimaro is the name of a local tree in the Taino aboriginal language. The local Taino population was wiped out by Spanish colonists in 1530.


DISTANCES
Amancio, 42
Cayo Romero, 65
Cayo Sabinal, 82
Camaguey, 80
Colombia, 12
Florida, 120
Gibara, 161
Guayabal, 60
Holguin, 128
Jobabo, 31
La Habana, 608
Las Tunas, 48
Marti, 15
Nuevitas, 52
Playa Santa Lucia, 90
Puerto Padre, 100
Santa Cruz del Sur, 118
Santiago de Cuba, 250
Sibanicu, 30


POPULATION 57,333 in regional municipality, of which 21,000 in Guaimaro, the town (2007)

PLAYAS
On the south coast, at some 60 km, the seaside town of Guayabal has a beach and a campismo. On the way there, stop in lovely Amancio — see below.

SEE.KNOW.DO
• The large central park, Parque de la Constitucion with its 46-foot high Obelisco was inaugurated in May 1944 to honor the libertadores with bronze plaques of José Marti, Maximo Gomez, Carlos Manuel de Céspedes, Ignacio Agramonte, Calixto Garcia and Antonio Maceo.
• In the same park, the Mausoleo a Ana Betancourt (1832-1901), journalist and teacher, one of the first women in the world to demand womens' equal rights. Betancourt's remains were transported back from Madrid to rest in Havana's Cementerio Colon in 1968 as suggested by another great Cuban woman, Celia Sanchez Manduley (Fidel Castro's political aide until her death in 1980)
• In 1982, the local mausoleum was inaugurated and declared Monumento Nacional as well as the Museo General Municipal de Guáimaro
• Busto de Calixto García is a work — located on Avenida de la Libertad— of one of the 20th century's most important sculptors, Teodoro Ramos Blanco
• Now located in what was first a school in 1925, the Museo Municipal General de la Constitucion relating the story of the ratification of the island's first constitution.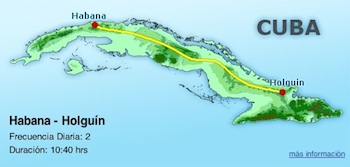 Viazul bus going through here — Ruta 16 and Ruta 24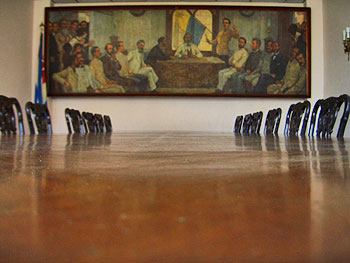 Asemblea Constituyante © Lizopedia flickr •|• In the central park Sitio de la Constitucion © eyanex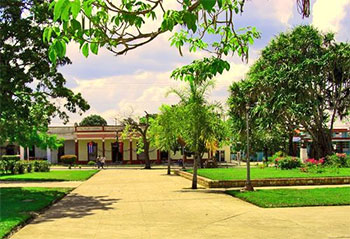 Parque de la Constitucion © Eyanex, panoramio •|• Calle al lado del Parque © Eyanex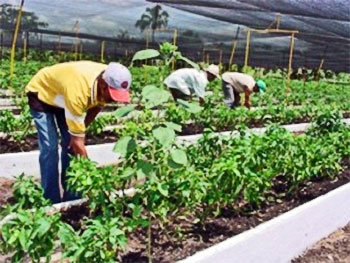 Soft agriculture — organoponic — without chemicals, just sun, water and human care has taken over locally, aiming at regional sufficiency © radioguaimaro.co.cu •]• Other view of the plaza with the obelisco © radioguaimaro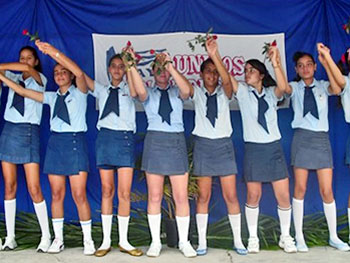 United on the First of May, International Day of workers, here and elsewhere © radioguaimaro •]• A small memorial park in support of "Los Cincos" unjustly emprisoned in the USA © radioguaimaro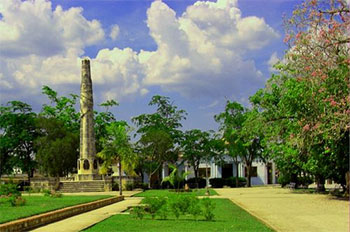 Other view of Parque de la Constitucion © Eyanex, panoramio •]• The plan of the city centro as seen from the air © googlemaps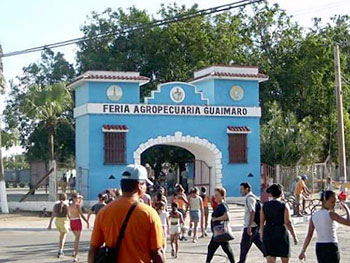 Attracting guajiros and vaqueros from the region, along with their admiradoras, the annual Country Fair, Feria Agropecuaria Guaimaro © Miriam Alvarez •]• Three generations of vaqueros (cowboys) parade in town on Workers' Day in May © eyanex, panoramio.co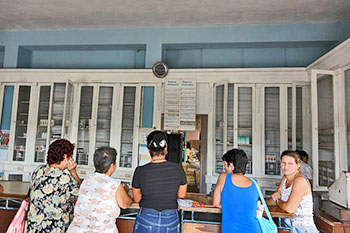 The Farmacia in nearby Cascorro : take a number ! @ Robin Thom Photography •]• The barberia on a balcony in Guaimaro @ Davida, flickr.com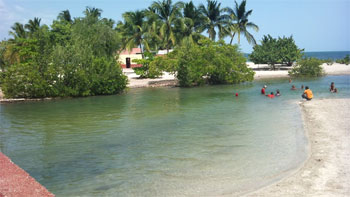 Estuary entrance with beach in Puente Guayabal, south of Guaimaro @ oquendomora, panoramio


FROM CULTURE TO AGRICULTURE ; )
every April since 1978 is held here the
Semana de la Cultura en Guáimaro
a week of cultural events to which take part some of these institutions :
Sociedad del Teatro de Guáimaro
,
Galería de Artes de Guaimaro
,
Brigada de Instructores de Arte José Martí
,
Brigada artística Martha Machado
,
Museo Salvador Cisneros de Guáimaro
,
Casa de Cultura
,
Librería Municipal Ignacio Agramonte
and the great cultural site of the town, built in 1918 and modernized in 1958 : the
Cine Guáimaro
.
•
In May, it's time for
Taller de tradiciones Cuiqui Sum
which highlights regional literary talents of poetry, tale-telling, riddles, proverbs and epigrams
•
Early June, in the spirit of feminist Ana Betancourt takes place the
Encuentro de poetisas Décima al filo
, a meet of Cuban women (and men) poets with music, dance and plastic arts
•
In July, since 2008, the
Festival del Audiovisual
at Cine Guáimaro.
•
During the first week of October the unavoidable
Feria Agropecuaria Guaimaro
with horse races, rodeos, bull riding, lasso contests and everything to please the
guajira
and her cowboy (
vaquero
)
•
In November is the annual
Salón de Mural, Artesanía y Cerámica Artística
(murals, arts & crafts and ceramics) in the Guaimaro art gallery.
EVENINGS
Casa de Cultura Luz Palomares García
— Theater, dance lessons, arts & crafts, music and an art gallery
• Cine Guáimaro
— movies, theater, shows and video room.


OUR RECOMMENDATIONS
::: Make sure that in your first email or phone call you specify that you want to book a room in that particular casa and that you will reconfirm your booking on arrival in Cuba. Unless you only want a room in any house which may be of the same quality, not the specific casa you booked through photos on these websites ::: So as to not abandon expecting owners with empty rooms, reconfirm (or call ahead to cancel) your booking by phone as soon as you can after arriving in Cuba ::: Please write or phone a casa owner to cancel a booking. As late as it may seem, it allows them a chance to rebook. ::: Children under the age of 16 may share a bedroom with adults for free. Specify the child's age when booking. ::: Since October 2010, maximum bedroom capacity is not limited to two adults ::: Also, large casas are not limited to renting only two bedrooms per night. ::: At the end of the casa name, the V signals the casa was suggested by travelers or owners but not verified by the website staff. If you try it and like it, write us about it. ::: Unless otherwise mentioned, the average room rates and service prices are : 20-25cuc per bedroom per night [up to 40+ for 4 in a room]; breakfasts 3-5cuc, dinners 7-10cuc. ::: Any casa particular anywhere in Cuba must have a hot water shower, otherwise it cannot have a permit to rent ::: Please share your Complaints, comments & suggestions webmaster [@]cubacasas.net