The quiet town of Amancio, is located 42 km south of Guaimaro in the province of Las Tunas on the way to the south coast and its seaport, Puerto Guayabal (photos below).

After the arrival of the United States as a colonial power, the sugar cane fields located in what was named Hato Viejo were sold in 1890 by Salvador Cisnero Betancourt to an Asturian family from Spain named Rionda y Polledo. These settlers started harvesting in 1902 with a first production of 67,620 sacks of 325 pounds (libras) each.

In 1930, workers organized when Arsenio Yero Alvarez founded the first communist cell. In 1949, Amancio Rodriguez, secretary general of the Sindicato Azucarero was assassinated along with colleague Jose Oviedo Chacon because of their efforts to demand better working conditions at the Central Francisco Sugar Company.

Once a meeting point of Camilo Cienfuegos and Che Guevara during their battle to liberate the island, the town used to be named San Diego de Buena Ventura.

Still a site of a huge (15,000 hectares) sugar mill installation, its local economy still depends on installations established in 1902 which produce alcohol, rhum (Conde de Cuba, Corsario and Sevilla brands), sugar, bagasse, honey, molasses and other sweet and addictive stuff.

The town thrives culturally — built as it were on old campesino legends, serenades, the trios and quartets, the bembé (religious happening of African origin), music of the organs of the east, culinary art, vegetarian habits, all the way to present-day carnavals summing up a lovely mixture of idiosyncrasies.

A song by Benny Moré is famous here if only because of its title : "Francisco-Guayabal", refering to the train route from the Francisco sugar mill to the port of Guayabal.


DISTANCES
Cayo Romero, 107
Cayo Sabinal, 124
Camaguey, 122
Colombia, 30
Florida, 1162
Gibara, 203
Guaimaro, 42
Guayabal on sea, 12
Holguin, 170
Jobabo, 31
La Habana, 650
Las Tunas, 90
Marti, 57
Nuevitas, 94
Playa Santa Lucia, 132
Puerto Guayabal, 19
Puerto Padre, 142
Santiago de Cuba, 295
Santa Cruz del Sur, 57




POPULATION 47,333 in regional municipality, of which 41,000 in Guaimaro, the town (2007)

SEE.KNOW.DO
• The large central park, town museum and other cultural venues listed below • Festival de la Juventud y los Estudiantes • Encuentro Debate Municipal del Taller Literario Mirtha Aguirre • Libreria Municipal Pedro Plaza, Calle C, S/N, reparto El Batey Tel. (31) 69-2196 • Biblioteca Pedro Plaza, Calle , No 14, entre Avenida primera y calle segunda El Batey Tel. (31) 69-3270

EVENINGS
• Casa de Cultura Sergio Reinó Calle A, No 5, e/ Avenida Libertad y Primera, reparto El Batey Tel. (31) 69-3257 • Casa de la Musica Benny Moré has many projects Antares, created to promote music from the 60's; ave 3ra entre A y B, reparto El Batey Tel. (31) 69-3290 • Casa del Escritor Nicolás Guillen, Calle A, S/N (Sin Numero, no street number), reparto El Batey • Ciné Yaquimo, Calle C, No 12, e/ ave 1ra (primera) y calle 2da (secunda), reparto El Batey Tel. (31) 69-2125 • Galería de Arte Carlos Enrique, Calle A, S/N, reparto El Batey • Museo Municipal Amancio Rodríguez Herrero, Calle A, No 13, reparto El Batey Tel. (31) 69-2697

PLAYAS
On the south coast, at some 12 km, the seaside town of Puerto Guayabal has a huge seaport and a beach as well as a campismo (beach chalets) named Playa Guayabal, reserved for Cubans.

The port town also boasts SolyArte a community involvement project which aims to keep alive the traditions of the sea farers.

YET TO BE FOUND
Cayo Rabihorcado, yet to be developed for tourism was "found" in 2014 by miradasencuba here. Map of the Guacanayabo Gulf off the Guayabal shore, is right here.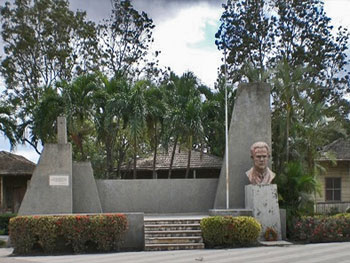 Public space in memory of Amancio Rodriguez © tank6b, flickr.com



Casa de la Cultura is located Calle A, No 5, entre Avenida Libertad y Primera in reparto El Batey © sundero Panoramio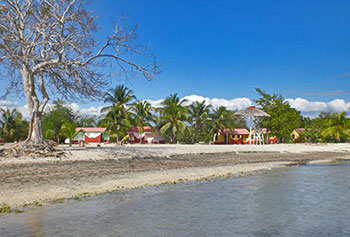 Campismo on the coast, 12 km south is not open to tourists (so they say, but give it a try), only Cuban workers and is named Playa Guayabal © Sundero, panoramio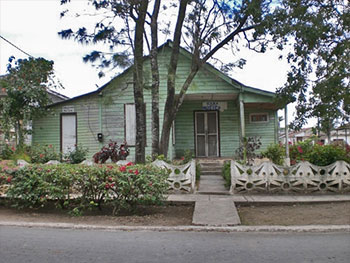 Casa de la Musica, ave 3ra entre A y B El Batey © sundero Panoramio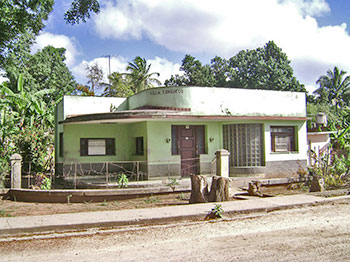 Villa Consuelo © tank6b (Jose Enrique Gonzalez Modecir) on Flickr.com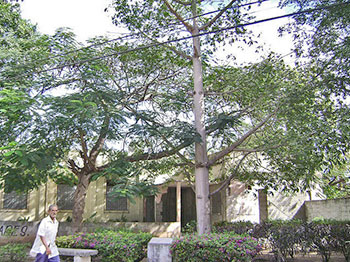 Arboles y Hombre © tank6b (Jose Enrique Gonzalez Modecir) on Flickr.com



The old sugar mill casa now belongs to the people for the people © oquendo mora


Puerto Guayabal 18 km south, has a huge seaport and a beach as well as a campismo.