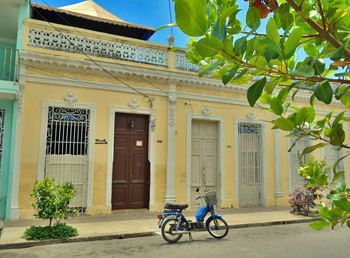 The couple has been renting since 2011 and now offer three aircon bedrooms each with two doubles, remote-controlled (wall) ac, fan, ensuite bathroom, mini bar (water, soda, soft drink, beer and wine), safe, hair dryer, umbrella and phone.

Guests can enjoy meals on the ground floor large comedor or drinks and reading or sunning at one end of the casa in the same patio or upstairs on the three roof terraces or its small bar and living area.

In other words, lots of space for every traveler, big or small.

Rates : 20-25cuc per bedroom per night, breakfasts 3-5; dinners 10-12cuc.