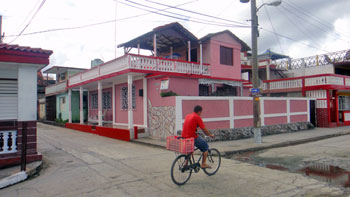 Many clients are referred by Yamilé's niece Yaliné, a dentist living in Santiago. Early morning at the Viazul station she hands out the casa's card to travellers - in order to help her aunt.

You will not have hard time spotting her : look for the loveliest Santiaguera ...

Yamilé is an attentive and motherly host who has been welcoming travellers for a decade at least.

Her hubby Ramon is an easy-going and discreet fan of philosophy who likes to converse with travellers, when he is not taking notes from a Schopenhauer book. They make a lovely couple.

The casa is near to the sea you see, you hear, you smell and sense when the breeze is northernly and the waves land on the Malecon wall.

Yamilé and he staff offer homy meals and comfy fare in two aircon bedrooms, each with two beds and ensuite, each opening from the living room with windows onto a mini garden shaded by a wall from the street.

Past the kitchen, the tiny patio cum garden space leads up the stairs to the roof terrace, the view, the sea and infinity.