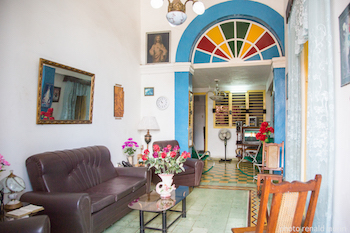 Charming and hospitable Marilyn runs a colonial casa where she rents one air-conditioned bedroom with a private bathroom right by an open and covered dining are by a sunny patio with its Cristal parasol.

But wait, there's more ! Since 2011, she has built a whole second floor with its own streetside entrance leading up an indoor staircase to two aircon bedrooms each with ensuite, sharing their own living room and kitchenette cum dining area overlooking the patio below.

At the entrance, a small living room, a tv room by the kitchen, the dining area, the patio and in the back, narrow stairs leading to a sun-in-your-face terrace.