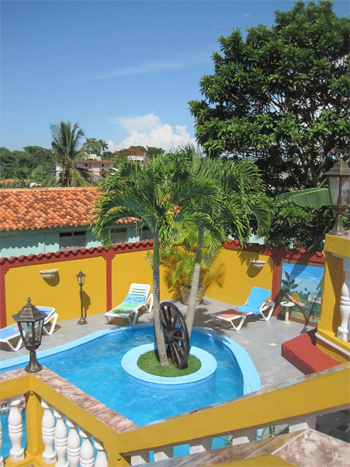 On a quiet kind of dead-end street, Nenita/Emilia (a most lovely soul) now offers with the help of our able and kind son Joel no less than four aircon bedrooms with independent bathrooms and fridge.

Recently totally redone and enlarged, we found the place hugely changed with new colours, more space (the casa took over the neighbour's) and an atmosphere that reminds one of a tiny hotel.

Free laundry service. Wading pool, table and chairs on roof for view of the valley, great at sunset. Son Joel offers his services as nature and tour guide.

« Nenita is the perfect cook and will adapt her choices to your needs from her recently-renovated kitchen. Her mojito criollo is the best and she can prepare a succulent pargo (fish). » Karine Bergeron

"The dog across the street barking and barking and barking. Sure, in Cuba there are dogs everywhere (and the noise that goes with them), but this one was particularly painful." Michele Guidé, France 15.01.15

Rates : 35-40cuc per bedroom per night; in August 2016, casa refused to lower rates for four bedrooms from 35cuc in low season.