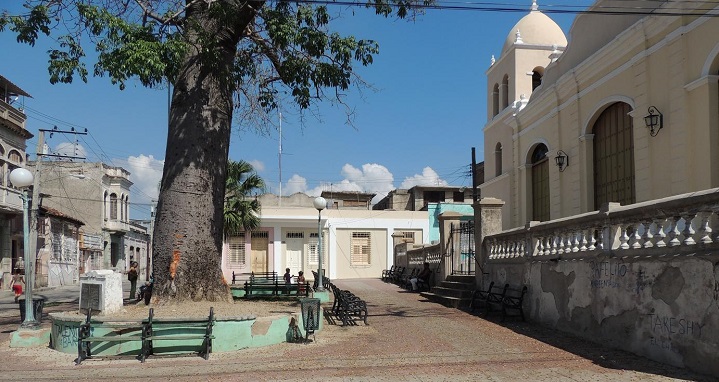 Orestes adds: "Our casa is located in a quiet area, within the Historical Center . It faces a small square with its large Ceiba (kapok tree), symbol of Cuban religious syncretism, worshipped with rites and offerings; it dates back to the middle of the 18th century and was the inspiration for the name of our hostel.

From the small park, our guests can enjoy the architecture of buildings dating from colonial or eclectical origins, among them one of the oldest church in Latin America (1730), a jewel of the historical heritage and admired by both faithful and atheists: The Santísima Trinidad Church. Our neighbourhood is quite near commercial, cultural, and social activities."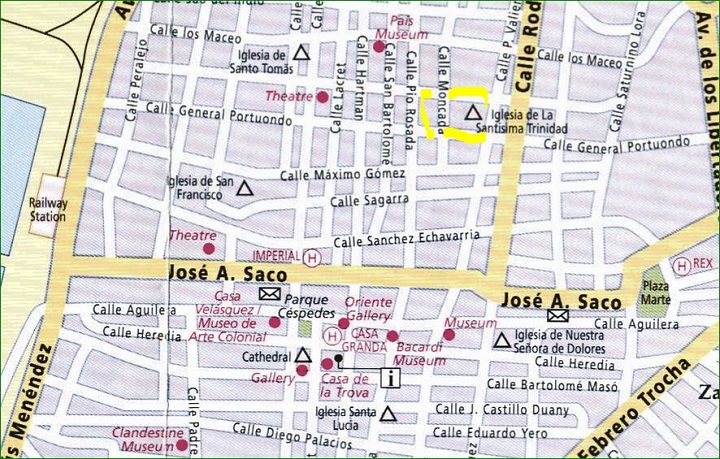 Some 300 meters from La Ceiba, three important parks and squares - joined by pedestrian street Jose A. Saco-Enramadas : central
Parque Cespedes
,
Parque Dolores
and
Plaza de Marte
, along with all the complex of shops, stores, restaurants, coffee shops, that are found in its surroundings, la
Casa de la Trova
,
Casa de la Música
,
Casa de las Tradiciones
,
Museum of the Carnival
, nightclub
Club 300
,
Dolores Concert Hall
(where classical, symphonic and lyrical music can be enjoyed).Within steps, the
Museo de Arte Colonial
,
Casa Velazquez
the first stone house built in the Americas (1516), former residence of the Spanish Governor of the island, Diego Velázquez, in whose basement the gold ingots, that were sent to Spain, were smelt and minted;
Museo de la Clandestinidad
, several Art Galleries, the emblematic
Emilio Bacardí Museum
(1899),
the famous stairway Padre Pico Street
, the House-Museum of
Romantic poet Jose Maria Heredia
,
Casa Artex
(a show venue),
the Cathedral
(1516) and other sites of cultural, historical and social interest.