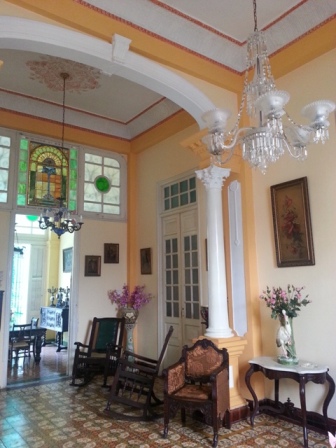 Juan Marti's new casa is more central, the closest rental casa to fabulous Parque Cespédes, the city's landmark meeting place.



It still offers two very well furnished ac bedrooms with ensuites, one has two beds a double and a single; an imposing and majestic colonial-style entrance cum lovingly-decorated living room, a remarkable dining room opening onto a vast patio with chairs and tables and a fountain with waterbasin at one end.

From here a corkscrew original stairway (painstakingly redone) leads through the neighbor's floor upstairs to a roof terrace with sun awning (ranchon) with royal peacocks — from there are unencumbered views of downtown and the cathedral on Cespedes park.

Juan Marti is well-travelled, has friends in Europe, knows colonial architecture and collects artefacts, art and objects from bygone centuries.

Altogether, his family members (two sisters in Bayamo, parents nearby and a brother also in town) have all been renting to travellers for more than a decade.

"One of the best casas particulares in Cuba ", Lonely Planet Cuba 2016

* He used to rent at Padre Pico 614; it is now named Villa Roma - see elsewhere on our main list. Phone used to be (22) 62-2917. It belongs to someone who does not rent.