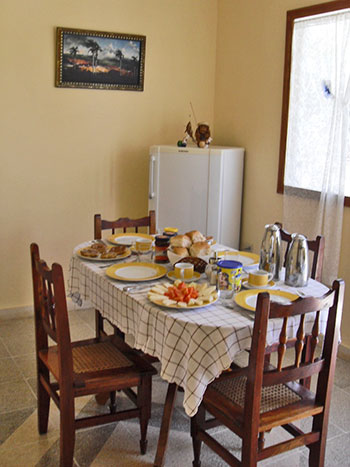 This house is in town center, and, as the name says it's a Park View (Vista al Parque - Balinga childrens park next door) casa.

Idolka rents two aircon bedrooms upstairs : one with two double beds. Each bedroom has air conditioning, fan and its own ensuite bathroom; dining area for breakfasts (photo left).

She also offers an all-equiped independent apartment on the ground floor with one double bedroom two bathrooms, kitchen dining area which she rents for 25-35cuc per night. (photos at bottom of page)

Breakfasts are served in the adjoining dining area on the Parque side of the windows, by the kitchen. The balcony is perfect for reading or just looking out on the neighbourhood.

Meals are served in the 20-person capacity paladar across the street at Maite's where super Italian and Cuban cuisine is served; incredibly-stocked bar with liquor, as well as imported and Cuban and house wine; private parking also across the calle. Idolka also speaks English and Italian.

Cooking facilities, laundry facilities, phone available. safety deposit box; available current 110/ 220 volt.

Rates: 25 cuc per bedroom per night; 10cuc more for each additional adult up to 4 max in the two double-bedded bedroom; 7-10 cuc per dinner; 3-5 cuc per breakfast; 2 cuc for garage; bike rentals, dance lessons, Spanish courses, towel and bedding change every day.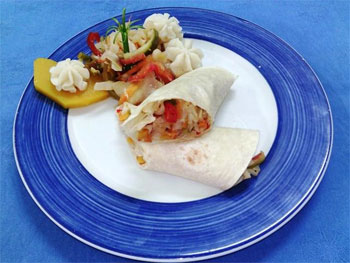 HOSTAL VISTA AL PARQUE
Sra. Idolka Maria Gonzalez Rizo

Idolka tiene 14 años de experiencia en hospitalidad.

Alquila arriba dos habitaciones, cada una con baño privado con agua fria y caliente presurizada las 24 horas, servicios de habitacion, TV, refrigerador, snack bar, caja de seguridad de valores, corriente 110/220 volt, climatizacion, ventilador. La capacidad es de 6 personas.

Tambien Idolka ofrece un apartamento independiente al nivel de la calle con comedor, cocina, terraza y un cuarto climatizado por 25-35cuc por noche; 10cuc por noche por adulto adicional
Otras posibilidades :
Terraza Solarium, con vista a la ciudad.
Parqueo para 4 automoviles, JardÌn, comedor para 20 personas.
Idolka habla Ingles e italiano.
Conoce toda la informacion de la Zona
Precios
25 cuc por habitacion por noche; 10 cuc por adulto adicional
3-5 cuc los desayunos a la carta
7-10 cuc las comidas a la carta
2 cuc garaje
Disponible con precios adicionales
:
cocktails, cervezas, jugos, lavanderia, vinos nacionales e importados, seleccion de bebidas en un bar internacional.