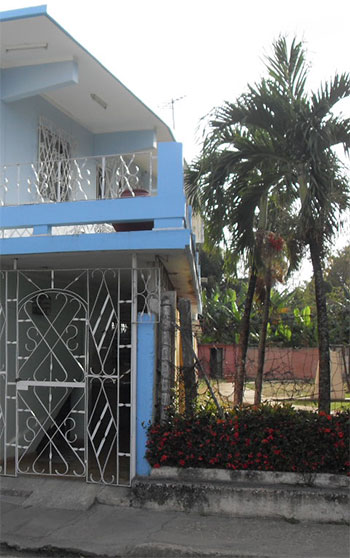 This house is in town center, and, as the name says it's a Park View Casa so everything is close.

Idolka rents two aircon bedrooms : one with two double beds.

Each bedroom has air conditioning, fan and its own ensuite bathroom.

Breakfasts are served in the adjoining dining area on the Parque side of the windows, by the ktchen. The balcony is perfect for reading or just looking out on the neighbourhood.

Meals are served in the 20-person capacity paladar across the street at Maite's where super Italian and Cuban cuisine is served; incredibly-stocked bar with liquor, as well as imported and Cuban and house wine; private parking also across the calle. Idolka also speaks English and Italian.

Cooking facilities, laundry facilities, phone available. safety deposit box; available current 110/ 220 volt.

Rates: 25 cuc per bedroom per night; 10cuc more for each additional adult up to 4 max in the two double-bedded bedroom; 7-10 cuc per dinner; 3-5 cuc per breakfast; 2 cuc for garage.