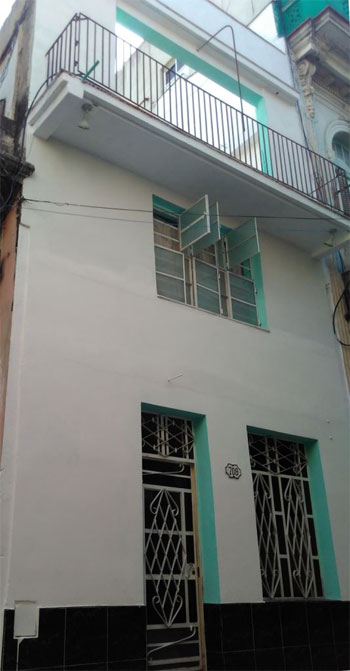 This young couple, Carlos and girlfriend Anelis believe in the words of the song "
En Todas Partes
" (Everywhere) of the group Habana Blues Band.
Some of these words are painted on walls of the living room. 
"Although we are a hostel , we are also a family, and we want it to stay that way. We will always make the little extra so that you feel at home in our home.

"We will make sure you enjoy your time with us as part of our family and we will help you with your travel plans on the island.

Capacity for eight persons : dormitory for 6 and one ac bedroom with a double bed on ground floor.

Bagage/Backpacks
Free lockers (bring your own locks, please)
Free bagage overnights
Laundry
Free access to washbasin for basic wash
Machine: 2cuc for partial, 3cuc full charge
Free time
Salsa: short free intro or formal 5cuc per hour lessons
Books for exchange
Agenda of cultural events in Vieja, other city spots and the island
Airport transport
Between 6h - 21h : 15cuc
Between 21h - 6h : 25cuc

Rates : 8 CUC per night per person for a bed in dormitory (6 bunks); 16cuc for ground floor bedroom (max. 3 pax), breakfast included : DIY (soya yogourt or fruit juice, eggs, guava paste, bread, café, hot water for tea). + more on their web page.

The song En Todas Partes on youtube here.
HOSTEL MANGO HABANA VIEJA
Krlos y Anelis



"A cool little hostel run by Carlos and his father-in-law Carlos, Centrally located, 2 blocks from a bus stop (p5 direction Vedado) and from the ferry to Casa Blanca (nice sunset , 1 CUP for the crossing for 2 people) and the Castillo del los Tres Reyes del Morro. Two bathrooms, a large terrace with hammock, chairs, etc .; including breakfast with two eggs, two bread rolls, fresh juice, dulce de guayaba; 8 CUC per night;
Transfer by the young Carlos to other hostels (has a note with good hostels all over Cuba); nice people and Carlos also going to partying :) The young Carlos speaks fluent English and some French, besides, he is learning German. Cheap pesos restaurants in the area but the hostel has great information posted in Spanish and in English (where to eat, what is the best transport, what to see etc ...) plus rules of conduct in Cuba. Air conditioning / fans. If you would like to meet great travelers and value a friendly relationship with your casa owner, this hostel is perfect for you! StefanLoose Okt 2017