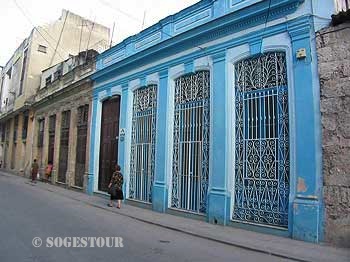 One of rare Old Havana colonials on ground floor, Ramon's offers three air-conditioned bedrooms (two doubles onto the kitchen and dining area in the back and a small luminous patio each with private toilet & shower.


A third bedroom upstairs with its private access to rooftop terrace is only available to very quiet clientele as Ramon does not want to disturb a very old neighbour. That is where we stayed (up a steep and narrow stairway) and enjoyed the privacy immensely — the only exception being Juanita who does the washing in the mornings.

Very clean and renovated colonial casa, good food served in nice open air with kitchen comedor with hanging tv. Host is usually Ramon with the help of kind Juanita and friends as Maritza now lives mostly in Florida.

The original description : " Ramón and Maritza always look after needs of their guests and make sure they have a pleasant stay. Breakfasts are excellent and include fresh fruits. The colonial casa dates from the end of the XIXth century and is in perfect shape. "

Negotiable rates including breakfasts : 25 single, 30cuc double per night per bedroom.