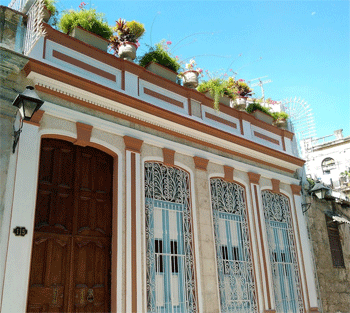 For several years until 2014 this place was a private rental house for foreigners in Old Havana identified with the name of its former owners Maritza and Ramón.
Today after a great restoration, remodeling and expansion it has become a a commercial hostal with 5 bedrooms to rent.

Carrara marble floors, large wrought iron windows with period figures, wooden beams ceilings, stained glass windows and a courtyard in the center of the house with a colonial well surrounded by natural plants, also has two large terraces on the roof with tables and chairs.

Rates : including breakfasts : 35 single, 40cuc double per night per bedroom.

"A 2-minute walk from Plaza Vieja, at the heart of Old Havana, this hostal, renovated a few years ago with taste, has everything you need to satisfy a traveler.

"A discreet roof terrace decorated with many plants allows you to enjoy the outdoors. Our hosts, Jorge and Mireya, welcomed us (we were 6 people, 4 adults, 2 young children) as if we were family.

"The lunch was excellent (hearty quality). They accommodated us throughout our stay.

"We highly recommend the place. Thank you to our guests. " 1christianle5 Longueuil, Canada, tripad visor 080118
LUZ 115


Miladys Borges y John Acosta
Gerente : Jorge Padron
Durante varios años hasta el 2014 este lugar fue una casa particular de renta para extranjeros en la Habana Vieja identificada con el nombre de sus antiguos dueños Maritza y Ramón.

En la actualidad después de una gran restauración, remodelación y ampliación se convirtió en un Hostal Colonial, recuperando los inicios de su construcción en el siglo XIX.

Pisos de mármol carrara, grandes ventanas de hierro forjados con figuras de la época, techos de vigas de madera, vitrales de colores y un patio en el centro de la casa con un pozo colonial rodeado de plantas naturales, además tiene 2 grandes terrazas en el techo de la casa con mesas y tumbonas para leer.

Precios con desayuno: 35 sencillo, 40cuc doble por noche.