MERCY GONZALEZ
Mercedes Guadalupe Gonzalez Rodriguez

Calle 21, # 360 apartment 2-A upstairs, between G and H streets, steps from
Avenida de Los Presidentes
leading to Casa de las Americas and the Caribbean Sea. Three blocks from Coppelia, the Habana Libre, Yara and the heart of tourist Havana.
Tel. (7) 832-5846 cell 52 91 76 85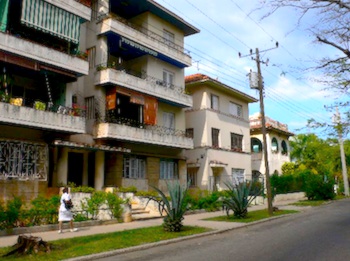 Mercy is a lively and lovely host, having greeted visitors for many years with zest and enthusiasm.
Living with her husband, she is attentive and proud to be of help. She enjoyed showing us her art nouveau sleeping quarters.

She rents two comfortable and large bedrooms, well-appointed and superbly decorated (one with two beds), air-conditioned, each with its own ensuite bathroom.

Large living and dining room opening to a balcony (yellow chair, photo left) in front of shaded calle 21.

Excellent breakfasts ; diners served on request. Guests get a key to the building's front door, the second floor apartment (reached by an elevator) and the bedroom. English spoken.