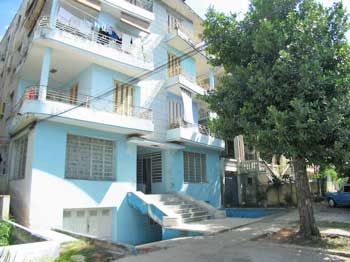 Madeleine and her family live elsewhere in this modern blue building on a quiet street in the centre of touristic Vedado.
On the ground floor (right window on photo left) Madeleine offers a large, recently redecorated, clean and well-appointed apartment including separate living room (enclosed in large glass & curtained windows) and dining rooms (paintings by her artist sister) and a fully-equiped kitchen with its new fridge and a gas stove.

In the back, two air-conditioned bedrooms, each with own outside bathroom (one vanity; one full in picture) and each with its own double bed, large closets, reading lamps and commode.

Rates : 65cuc per night for the casa (the whole ground floor) or 35cuc per night for one bedroom only; no meals served.

Noteworthy : beds and towels changed and house cleaned daily around 10:30; please leave 1 to 1.50cuc tip per day (or bring worthwhile gifts) for the kind and reliable person.