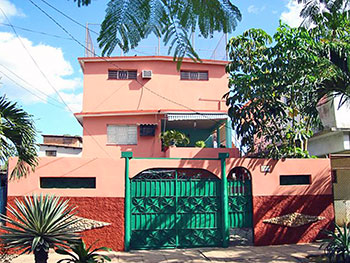 Gustavo Garcia and his wife — a friendly and hospitable couple living on the ground floor with daughter Nicole — have lovingly renovated their large casa and now offer for rent two upstairs independent floors with two bedrooms each with a separate entrance — a staircase from the enclosed lot :
• Each piso has a dining room and kitchen, plus a service and two separate bedrooms (photos: "primer piso" and "secundo piso")

• Each bedroom has an ensuite bathroom, TV, music, safe, air conditioning and total comfort.

• On each floor, bedrooms share a large kitchen with dining room, refrigerator and other amenities so guests can prepare their meals; shaded terrace and service yard and car parking, all included in the price.
Rates : 25-30cuc per room per night. Children beds can be added for 5cuc per night. Up to 3 people per room. For a total of 6 per apartment (floor) and 12 in the whole house. Meals : breakfast 4 cuc, snacks for 3-4cuc and dinners for 8-10cuc per person depending to the menu; laundry service.