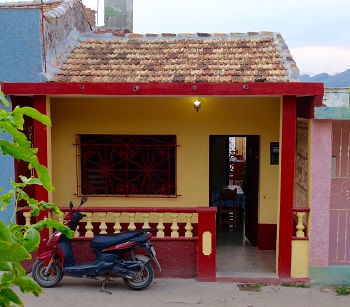 The small house is rented in full with its entrance / living room / kitchen counter with table and chairs, and a TV. On the side, a narrow passageway leads to a locked gate allowing direct access to el mar.

In the back are the two ac bedrooms each with one double bed in the back with a shower room in between.

In the background, a balcony overlooking the sea, the sound of the waves delighting guests sleeping in this room ...

Rates: 55cuc per day for the whole casa; breakfast and meals available at Casa Buena Vista

It is Guillo of hostal Buena Vista who runs with this casa belonging to Alejandro (Casa Meyer, Trinidad).

SUNSET
Guillo encargado por Alejandro
La casa pequeña se alquila en su totalidad con su entrada / sala de estar / encimera de la cocina con mesa y sillas, un televisor y los dos dormitorios en la parte posterior con baño en el medio.

En el fondo, un balcón con vista al mar, el sonido de las olas deleitando a los huéspedes que duermen en esta sunset casa...

Precios : 55 cuc por día para la casa completa; desayuno y comidas disponibles en Casa Buena Vista

Es Guillo del hostal Buena Vista quien se ocupa de esta casa que pertenece a Alejandro (Casa Meyer, Trinidad).