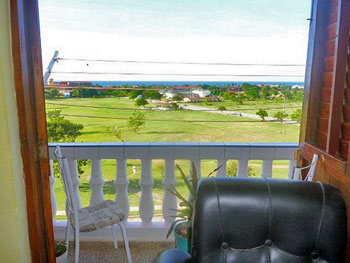 Wilmer has a degree in social communication and good experience in lodging, having worked for Iberostar and Parque Central five-star hotels.
He speaks English well and rents either one bedroom or the whole apartment.

It's composed of a living room, balcony with ocean views, two bedrooms, one with sea view; kitchen and bathroom, sleeps two. In the other room : sea view with three-person capacity.

Catering and laundry services; personalized information in English on the main attractions of the region.
"Our motto: Enjoy being our customer. We work to ensure a good souvenir and the good of the traveler. Safety, comfort and tranquility. »
Rates: Full apartment for 50CUC High or 40cuc in Low season or 20cuc for one br, Wilmer taking the other. Reference Carla T, Kilkenny, Ireland on Trip Advisor