Orquideario Macradenia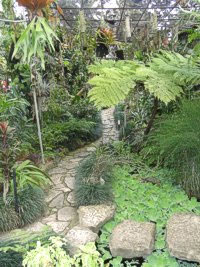 In the realm of the Macradenia
Visit to a private garden dedicated to a rare orchid and decorated by a fern species named for the garden's owner, Aloma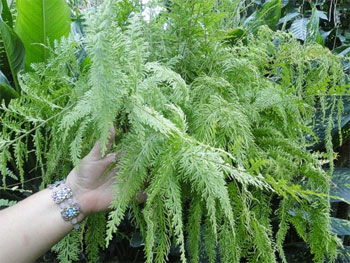 ..
...
.in the Adiantum fern family,
this is
Adiantum alomae
.

Visitors can drive 10 km north of Cienfuegos to visit a private garden with no less than 1,200 varieties of orchids [the Jardin Botanico's official orchid reserve] created from 70 originals seeds, as well as malanguillas and begonias.

The village of Palmira (pop. 33, 425) has another smaller flower garden but the one attracting all the atention (and about 4,000 visitors a year) is in the backyard of Omar Aloma Moreno, behind an anonymous facade along main street.

Having started quite young at the Jardin Botanico de Cienfuegos, Omar decided to branch out (unintended pun), starting his own private botanical adventure 25 years ago backed by his Masters in Agriculture Science.

After researching lesser known areas of the Sierra de Escambray mountains, Omar found an heretofore unknown variety of the Adiantum ferns; so, since 2009, the Adiantum alomae is in the official entries, of the fern variety.

The vegetal space behind the house exudes with natural exhuberance with a stream, benches and a Japanese-Garden type of zenful peace, esconced by the natural belleza of the Macradenia.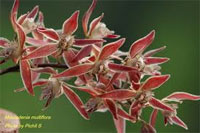 macradenia multiflora

Descriptions are aptly provided by two attentive women, Odalis and Ana; a government-supported program to help youngsters learn Public Speaking and Tourist Relations uses Omar's facilities.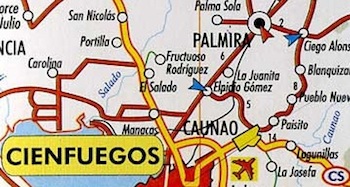 Omar's private initiative has earned him rare praise : the Excellence Triple Crown awarded by Grupo Nacional de la agricultura Urbana y Suburbana from Cienfuegos province.