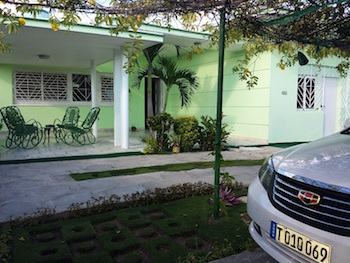 The couple — he, retired; she working for the casa — has been renting for about 15 years.
Large patio, pool, bar and large open spaces to enjoy meals (with 3 other couples, since there rent 4 bedrooms ...) space for rental cars, separate entrances.
"Very friendly and helpful English-speaking owners. (...) The room is correct and the aircon did a good job but quite loudly.
"The bathroom is correct. Terrace and pleasant, especially on hot days swimming pool. Breakfast and dinner are priced higher than what is found in the restaurants of the city. "Lille on tripadvisor

Rates : 30-35cuc fir bedroom per night; breakfasts 4/5cuc, dinners 10/12.