-->
Modern two-storey casa where Vivian's Darsena ("small dock" in Cuban) occupies the ground floor; her brother, the upper; she lives with her son, a computer science teacher at the local university and her daughter who studies to become a veterinarian.

The first bedroom with ac is located between the living room and the kitchen; rather large, it has a double bed (and a single bed on request), closet space and an ensuite bathroom with a bath with shower, toilet and washbasin.

The second bedroom is behind the main house - near the back door to the kitchen for Vivian's 5-cuc breakfasts, the only meal offered. It has an independent entrance along the building. It is large-r with a double bed, recliners, a table, a pantry with a large fridge and an ensuite shower and washbasin.

It has 6 windows with great natural ventilation; guests can climb up a corkscrew staircase to spend time on its roof. It will eventually be arranged with chairs and table.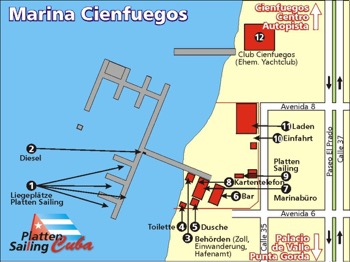 Marina Marlin is close by - Enlarge.The casa is located between a bare ground and a children's playground and steps from the international marina - customs office, bar, store, boat tours of the bay, kayak rentals (2 hrs for 30cuc).

A three-day sailing cruise to Cayo Largo costs 600cuc; a full day 8-hour cruise, 100cuc, among other offers.



One block away is Hotel Jagua with its swimming pool, lobby bar and wifi zone and daily one-hour concerts by local (very talented) musicians and singers.

Dining options include the pool bar, the Palacio del Valle which serves as an extra dining room as well as the terrace restaurant of Casa Verde across calle 37 and El Pelicano around the corner.

Also close by is the Escuela de Ramas, the rowing school - its teenage students jog by Darsena daily.

Seaside is a beach bar, named Circulo Villena; the Malecon, a majestic bayside walk leads to the Prado and the city center.

The Malecon is the meeting place of the local youth, hundreds at a time chatting on their cell phones while listening to loud reggaeton.

All things considered, this part of Punta Gorda is very nice indeed.

Rates are 30 cuc per bedroom per night; laundry service and travel information - Vivian is quick and able to find any info required by her guests.