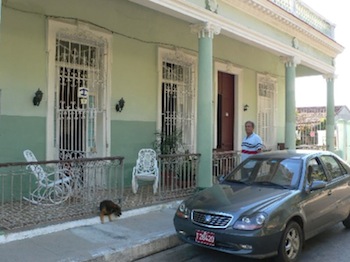 Enrique Conde owns part of this once-colonial-type casa with a patio with rockers, living and dining room on ground floor.


And a recently-built shaded patio on the side behind the front house fence, one downstairs and one upstairs aircon bedroom, each wiith ensuite bath; with a view. Meals served.

"We stayed 3 nights with Mayda & Enrique and were made to feel like part of the family even though we had little common language.

The food was fabulous and the location in Punta Gorda quiet with a lovely garden to sit and chill.

Bedroom was clean, bright, airy and comfortable and there is a great roof top terrace to watch the sea or if you are lucky like us, a lightning storm lasting several hours." JCTT Toronto 22.11.12 tripad

Rates : 25-30cuc per bedroom, breakfasts 4-5, dinners 8-10cuc.