VILLA JABON CANDADO
Pedro Otero Paz
Calle Chicho Valdes (or main street — Carretera Central) # 51, corner Abraham Delgado, some 300m from pedestrian bulevar in town center. Tel. (33) 22-5854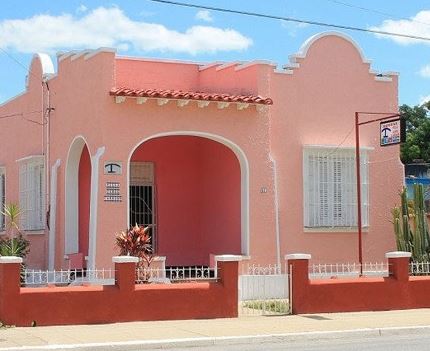 This is the facade on Carretera Central (Ciego's main street, aka Chicho Valdes)
In a national radio contest in the '50s (when business ruled the island), the Candado soap brand had built a casa in each city and organized a contest for soap users to win said casas. An era in Cuba as well as North America when cleanliness was next to holyness ; (

This is the only city in Cuba where you can actually rent in a Candado house.
Travelers will find in this rather vast house :
• Stylish ground floor, spacious lounge and dining room. • Two air-conditioned bedrooms, each with private bathroom; one upstairs off the enclosed patio. • Terrace and garden with tropical bamboo bar • Kitchen available for guests or meals prepared by Pedro.
Rates: 20-25cuc each room per night