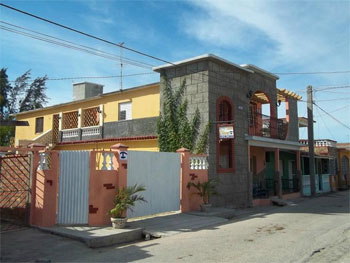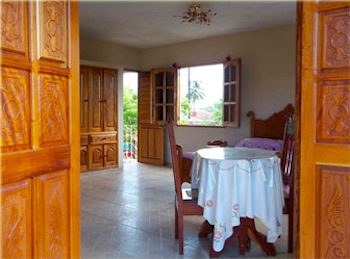 " Your hosts, Georling, Yoa and Daniel are looking forward to meeting you.
" Georling and Yoanis speak English well and they are learning French. You can of course practice Spanish as much as you like.

They are a pleasant, friendly couple, a source of information for tourists. Casilda is easily accessible by taxi, cocotaxi, bus or, if you wish, by horse. "

" Your stay with them will give you a wonderful opportunity to find out more about Cuba and the Cuban lifestyle.

" Services offered on request ($) : transport to and from Santa Clara or Cienfuegos Airport or for excursions; Breakfast, Lunch, Dinner ; bar; laundry

" We stayed at Casa Novoa for a month. It was like home away from home. They can help to coordinate your visit to the most important places in Trinidad. Daniel works with tourists at the Ancon marina. We were treated like royalty.

We have learned a great deal about Cuba and are looking forward to returning soon. Highly recommended. " Suzanne and Hugues Jeansonne, Gatineau QC, Canada

" Built in 2009, the room is located upstairs. It has an independent entrance. The room offers air conditioning / fan, double bed, kitchenette, private bathroom with large shower and hot and cold water 24 hours, refrigerator, balcony, daily cleaning, parking, terrace.

Rates : 20-25cuc for the bedroom per night; all three meals available upon request; daily room cleaning; parking; terrace.