Cárdenas
supplies part of
Varadero
in labor. It boasts nice examples of neo-classic architectura (superb patios, high windows, detailed motifs) some dating to the town's founding in 1828 and a fascinating history linked to the first rhum factory and the first vacationers on the
Hicacos Peninsula
(Varadero).
During our Cardenas
dog day afternoon
, we saw half-drunk, red faced, bare pot-bellied, 9cuc-per-hour scooter buzzing jimbos looking for their way out of hotter than hell streets.
Seriously, Cuba's flag was raised here for the first time in 1850. The
first electric tramways
started here. Second only to Bacardi, one of Cuba's largest rum distillery
Ron Arrechabala
(founded 1878) was established here. Other town firsts include the first electric power plant and the first gynaecological clinic.
Its owner created the Havana Club brand which infamous Bacardi claimed was theirs but after a years-long
legal battle
in Europe and the US, Pernod-Ricard in partnership with Cuba got rightful ownership of the brand.
The
sleepy town
used to live off two sugar mills (José Smith Comas and Humberto Alvarez) in the area but now, there's only nearby Varadero's tourist industry and a few of the fishermen's catches.
Its citizens use the horse-drawn taxis to get around. Most ride bikes.
Hasta la bicicleta siempre !
Seamos realistas, pedimos el impossible.
A LITTLE HISTORY
Before the
Revolucion
, the city was the largest port of Cuba. From 1878, the Arechabala rum distillery established by
Jose Arechabala y Aldama
was one of the largest employers on the island with its 1.024 trabajadores who distilled rum, made sugar, syrup, honey, candy, brandy, cognac and imported and distributed gin, whiskey and wines.
But the U.S. prohibition (1919-1933), a scandal of shady promoters who pocketed $ 700,000 to redo the port, a murder and a kidnapping of family members, the 1929 crash contributed to Cardenas losing its industrial shine and importance. In addition, the port became unusable due to its lack of depth.
In 1926, arrives an Arechabala nephew, Jose Fermin (Josechu) Iturrioz Llaguno who joins with a brilliant engineer, Manuel F. Arias. So at the age of 36, Josechu takes the reins of the family industries and transforms the city port, launches the Havana Club label in 1935, relaunching its businesses and modernizes its plants, despite two deadly hurricanes.
As business is going well, Josechu builds, a few miles away, a family compound with houses, a lagoon and a park. He gives it the name JosOne, acronym of the name of his great-uncle and great aunt. One can see it today in Varadero. A sort of famous Cardenas resident long worked there as a waiter : the father of Elian Gonzalez.
Josechu died in exile in New York on New Year's Day 1960, having been driven from his city and its expropriated and nationalized industries - without compensation - by the barbudos he had elected to reject with the help of Bacardi.
Today on calle Pinillos on the corner of calle Sáez, remains the distillery which was the most prominent of the island, "La Vizcaya" along with Bacardi in Santiago. However, the two names banded together to fight Cuba and Pernod-Ricard before US courts about the rights to the Havana Club name and so are hidden — sadly and to the detriment of all — from the modern history books of the island.

MAPS & LINKS
Map - City with cultural spots, old photos and casas
Map - Architectural & Landscape Guide - 17 spots
Map - Detailed city plan with burroughs and casas
Centro Circuits - Itins & Top Casas
Tramways of yesteryear
Varadero detailed map
Island-wide bus connections (horariodebuses.com/)
Daily currency exchange rates
Robin Thom's fabulous pictures of the town
Rising and downward tides for Cardenas
Arechabala & Bacardi fighting over Havana Club
All that's natural in Matanzas province
DISTANCES
Bay of Pigs (Playa Larga), 93
Cienfuegos, 165
Colon, 60
Corralillo, 74
Jagüey Grande, 66
Jovellanos, 29
Las Morlas, 34
La Habana, 138
Matanzas, 43
Máximo Gomez, 26
Playa Girón, 127
San Miguel de los Baños, 25
Santa Clara, 170
Trinidad, 250
Varadero, 12



1960 Intl Women's Day poster, by Eliado Rivadulla (1923-2011)

POPULATION
107,085 (2007) in Cardenas
Municipio
(regional township)
SEE.KNOW.DO
•
Catedral de la Inmaculada Concepcion
(stained glass with Cristobal Colon still standing in front, overlooking his namesake Parque since 1862)
•
Hotel La Dominica
(National monument where the city was founded) was planned to be renovated to be the city's first hotel but the deal fell through with Spanish investors late 2008
•
Museo a la Batalla de Ideas
(superb views, odd statue of boy throwing a Superman doll... Elian ?); avenida 6, e/11 y 12
•
Museo Casa Natal José Antonio Echevarria
(student killed by Batista's henchmen in 1957)
•
Museo Óscar María de Rojas
(natural history and geology : a curious if not totally strange arrangement of fleas, fossils, a horsetail and a rarity, guides who know their stuff) on Plaza Echevarria, avenida 4 este, corner calle 12
•
Plaza Echevarría
with statue of José Antonio Echevarria
•
Plaza Malacoff
(50-foot high dome, metal-framed building) now a fruit and vegetable market as it was meant to be in 1859 •
Fabrica de Ron Arechabala
(first home of Havana Club rum; tours 3 cuc)
•
Galeria de Arte Salon Massaguner
on avenida Cespédes features paintings from provincial artists
•
San Miguel de los Baños
, 25 (swimming pool, Loma de Jacán)
•
Libreria La Concha de Venus
, Cespedes 551, esquina calle 12
PLAYAS
All those of
Peninsula de Hicacos
, where Varadero spreads its resorts over 17 km.
Playa Larga
(not the one on the bay of Pigs, 93 km south).
Varadero
- The beginning of the Peninsula de Hicacos is at Santa Maria (bridge), or 8 km from Cardenas.
Varadero Las Morlas
, the very end of Hicacos is 34 km away
RESTAURANTS/PALADARES
Top choices :
Retiro Estangel (Angelo)
Calle Spriu, 656,
Casa Espriu
(Plaza Echeverria, calle 12, e/4 y6),
El Viajero
(esquina 13 y 13, in moneda nacional),
Casa de las Infusiones
, Cafeteria
La Cubanita
on Plaza Malacoff, El Rapido, Los Almendros,
Las Palmas
, Pizzeria La Bolognesa
Paladares
La Barra 1470 (calle 13 e/ 6 y 7)
SERVICES
•
Local Yoga Instructor
Pablo c/o Iglesia Reflexion y Dialogo Ave. Céspedes No. 1210 e/ Calle 25 y 26
•
Hourly buses to Varadero
(6cuc) ; three dailies from La Habana ; regular service for Jaguey Grande (junction with the trans-island autopista), Jovellanos, Matanzas, Santa Clara (10cuc), Trinidad (18cuc)
•
Local train between Cardenas, Jovellanos and Colon
.
•
Horse-drawn collective taxis available most everywhere.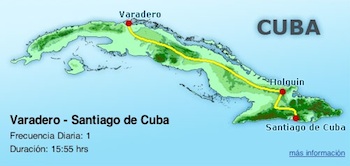 Viazul's Ruta 56 goes by here on its way to and from Santiago de Cuba - Click for details