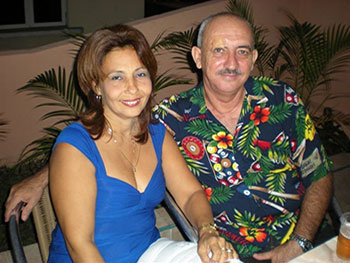 The lovely hosts are teachers, Adis is a professor of English and Computer Science and Rafael a Professor of Geography who knows the area and can arrange tours.
The house is located in the cultural and commercial center of the city. The street is small and very quiet, no noise. The couple rents two separate rooms located upstairs, each with one double and one single beds, pent-house style with balcony & terrace overlooking the sea, the typical roofs of the colonial city and the mountains of Baracoa like Yara and el Yunque.

Both bedrooms are large with a capacity of more than two, ensuite bathrooms, permanent water, hot and cold; windows on 4 corners, very airy balcony, garden herbs and flowers, book exchange library in different languages, fridge and all kinds of amenities. Adis is a very good cook, a specialist of traditional dishes;

Various other services: laundry, bike rental, organization of tours, salsa dance lessons, Spanish language and Creole cuisine, the house specialty is fish in coconut milk.

Rates : per bedroom per night 25cuc.