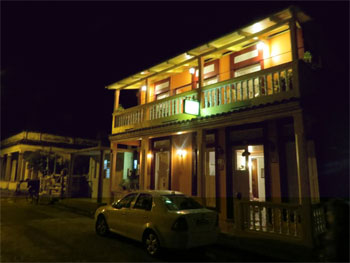 One of Cuba's Top 10 casas — a perennial favorite of travellers. This is a fairly large colonial built in 1890 by a coffee dealer from Marseille (France).

Gustavo's great-grandfather inherited it. Yalina has French ancestry, as do a lot of Baracoans.

The building was renovated in 2006 and extensively enlarged in 2012-13 with five ac bedrooms on two upper floors and a mirador (lookout) on top of the roof.


Located on a quiet street, its access is now through an independent staircase on the facade. It leads up to a small lounge and a pantry for meal service by which sits the large front bedroom with four other large bedrooms, one on an upper floor. On the ground floor, the sixth, part of the original house.

Each bedroom is air-conditioned (the new silent "split" models), with fan(s), mini-fridge, reading lamps, hair dryer, luggage table, the works.

There is a large terrace on the upper floor looking out to the sea. Each bedroom has at least two comfortable beds, some three.

Breakfasts are Gustavo's specialty while dinners are mastered by Neubi, a descendant of aboriginals. She is, in our humble opinion, the best casa chef on the island.

Meals are served in four different places for more intimacy. Two floors up, a large covered terrace from where Mount Yara, El Yunque and the sea can be admired. The lovely, kind, attentive and very experienced couple lives with their daughter and son.

Rates : breakfasts, 4cuc, dinners 8-10, 25cuc per bedroom per night. Laundry service, assured parking on the street; bike rentals next door; up-to-date excursion information, taxi sharing to near and far places.