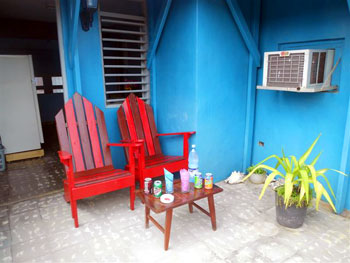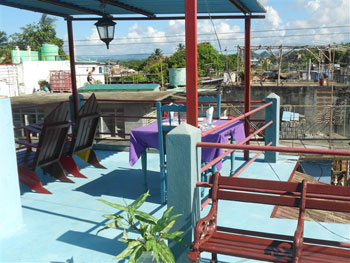 The couple has a dozen years of hosting experience with tourists from around the world.

Their casa is - as so written by Eugenio "where privacy, safety, cleanliness and a friendliness nature are essential."

The house is on two levels, the ground floor is reserved to the owners : Eugenio, a biologist by profession who speaks English fluently and a bit of Italian, his lawyer wife and their daughter, who is 10 years old.
The second level, upstairs, is a separate apartment for travelers and it has a living room with stocked refrigerator, bathroom and air-conditioned bedroom with two beds, balcony and private terrace with beautiful vistas of the sea.

The hosts offer both bar and full meal services.

Travelers can enjoy the casa cooking either in the main dining room or on the terrace overlooking the sea whether they choose delicious breakfasts, lunches or dinners — with choice of meats, fish or seafood.

The casa especialidad is fish steak or seafood both prepared with typical Baracoa-style, in coconut milk.

Car park and a laundry service available.